Strat mods/rewire
Hey guys, currently in the process of putting my strat back together, and man, I only just realised how much the wiring sucks! Coldest factory solder joints I ever seen, but oh well. Anyways, I'm re-wiring the whole lot, and thought I might as well throw in some moddage.

So I need help with a wiring diagram, It's a standrd s/s/s strat style, and has 1 vol, 2 tone, and a 5 wap p/up selector.
The basic mods I want for now, to get me started, are a switch to hum-buck my bridge and mid pickups (in the form of a push/pull), a standby switch, and that's it

Also, I don't need the 2nd tone control. There's a doodad going there later.
Many thanks in advance, Louis.


Join date: Nov 2007
30

IQ
Ahh, I found the article, and no, I think that's more on coil tapping, which is kind of the opposite of what I want to do.
Thanks anyway


Join date: Mar 2008
210

IQ
A standby switch is a switch to put the volume off right? (If not, then this isn't for you) Well, just get a a SPST switch and connect a wire from one contact of your jack to one contact of the switch, and a wire from the other contact of the jack to the other contact of the switch. This grounds the signal.
thanks, i understand that bit, just put it there so if anyone decides to do me a diagram, they'd include it. Thanks man.



Join date: Dec 2007
150

IQ
I'd make sure you could use the bridge and neck in series since I've found it's an absolutely sick sound.
if you wanna make your bridge and mid humbucking you have to rewind one of them, so the polarity is the other way

standby switch is easy, best way of doing it is with an SPST or SPDT and connecting the left or middle lug to the centre lug of the volume pot, then connecting the right lug to lug 3 (the one that is grounded). The jack idea probably would work, but i can tell you this way definitely works as i have it on my strat

a cool sound which would make better use of the push pull pot is to join the neck and bridge together, it gives a really tele-esque twang. Just wire it so that the push/pull pot puts the bridge pup on whatever, then you can have ALL 3 pups on!!!!! I have that and its awesome
Yeah, thanks, but I get realy confused at this stuff. Could you please do me a quick drawing on paint or something?

Thanks a lot, Louis

Thanks dude, and yeah, if you could whip me up a diagram, it would be much appreciated. Also, if possible could you get it to me before saturday, cause I go to the guitar store on saturday morning, so i need to know if I need push/pulls etc.

Many thanks,
~Louis
oh and for that you need either 2 push pulls or 2 DPDT switches and an SPDT
Thanks so much man! Btw, i take it the two marked below are the p/p's? And which way around do I wire them?
Thanks again, Louis.
yeah they are push pull, but they can just be DPDT if you don't wanna change out the pots
erm, i guess you just wire them, never though about how, that one with the crossover is a bit unclear, basically it goes from the top left lug to the bottom right and vice versa
it dosen't matter where you wire them, the way just depends on how the switch will work i.e. it might be engaged when its pushed or when its pulled
hope that clears things up

Thanks dude, trial and eror I guess

Also, I've decided to get pushpuls rather than DPDT's, but will I just have 250k's? like were already in, or will I need a 500k for the volume, as it'll have the humbucker thing going on?
Thanks, Louis.
ALSO, I take it that the switch portion + pot are attatched as below, (if that makes sense). and the volume p/p is for the bridge and whatever other pup is selected in series, and the tone is for out-of-phase?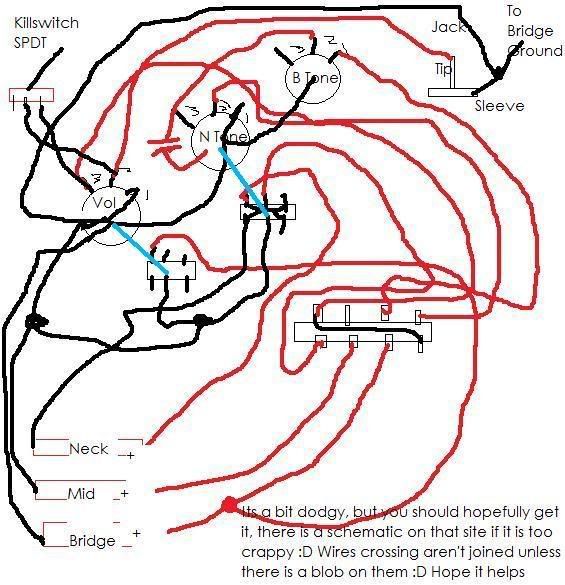 yeah, it dosen't matter really, thats the way round i have it

and nah, you are fine with a 250k, i have that and its fine, unless you want a brighter tone in which case 500k is better

hope it goes ok, like i say, refer to that schematic aswell, its pretty simple to understand
Cheers dude, off to get the pots tomorow, and then gonna start wiring

Thanks for your help, much appreciated

No problem

just make sure you check the schem if it dosen't work, i might have messed up somewhere

let me know how it turns out
Just re-done, i think it looks a bit neater, could you have a quick look for me if it's right, and if I missed anything off?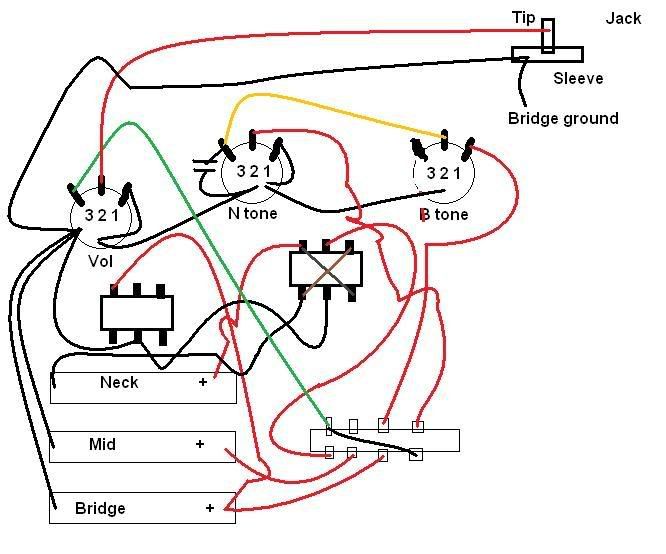 Thanks, Louis.
BTW, if at all poss, could you post pack in the next 10 mins or so, as I need it before Skl tomorow.
Thanks again.
EDIT: I know I've left the killswitch off.
Off to get the pots in 5 mins, but then won't be able to come check the thread till monday, does it look ok? Thanks.
Yeah, looks good, can't see any problems
just make sure you know which wires to join together, on that layout I can't really tell, but if you join 'em right, then it should work
hope it goes well!