Strat gutted - new pickups and coil tap

Join date: Apr 2006
20

IQ
Alrights, whats up GB&C? First post in this forum so im a little wary, but you might like this.

Initially this was a simple, cheap 100 pound strat affair from amazon. Original spec was a S-S-S setup, with master volume and two tone controls, your standard strat. Tone was good enough for the price but nothing to write home about. Sadly i do not have a picachoor from before , but you will already have a good idea.
This is the finished guitar

: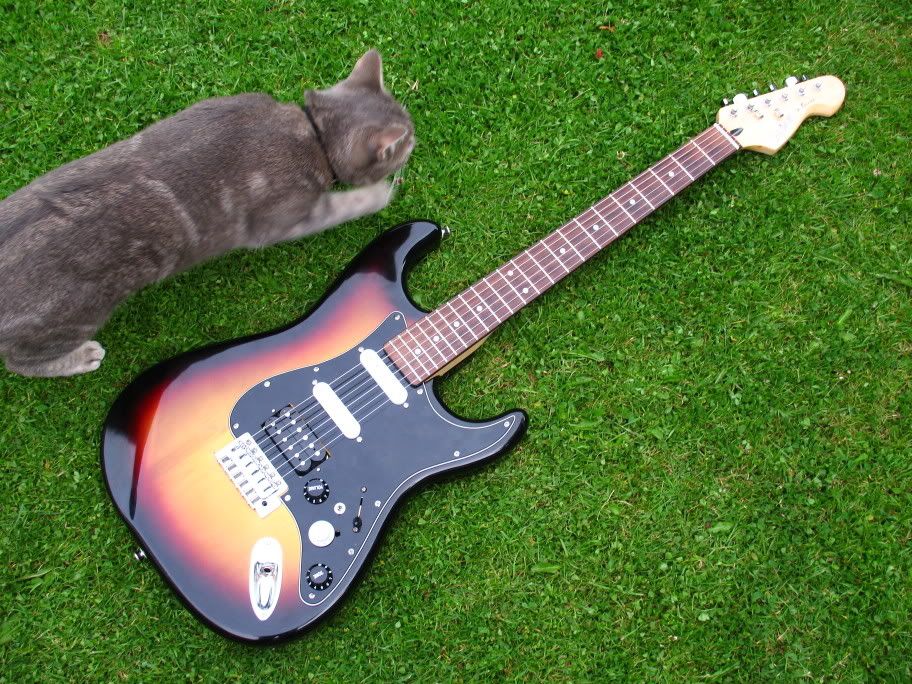 Ill go through the mod bit by bit.
1.
Pickguard changed from white to black, H-S-S routing
2.
an Iron Gear 'hot slag' pickup, high output
3.
new pot #1 Volume (the top black knob)
4.
My personal favourite , and the white 'special' knob -
variable coil tap
on the humbucker. Goes from full to completely tapped.
5.
New tone pot ( bottom black pot) Master tone
6.
The small switch is a neck on switch, whenever its on the neck pickup is added into the signal.
And thats about it! i wish i could post wiring diagram etc, but i was not the modder, that be a friend who is litterally a wizzard with guitar modding and building.
So... opinions?
Urgh. every image host i use keeps dying

. ill sort it
Last edited by richwatkinson at Jun 17, 2008,