Opinions on this neck?
I was looking at this guitar on ebay and noticed this part of the neck. I have read plenty of reviews about it, and out of the many, only one mentioned this part as a hindrance. The reviewer mentioned that it was hard to reach the higher frets. Looking at this picture and comparing it to my current guitar, I can see a large difference between the two.
I tend to hang my thumb over the top of my neck when playing, especially when reaching the higher frets (poor technique, perhaps, but it's comfortable.) Does anyone have any experience with this? Are the high frets as hard to reach as they appear? Am I just being over critical?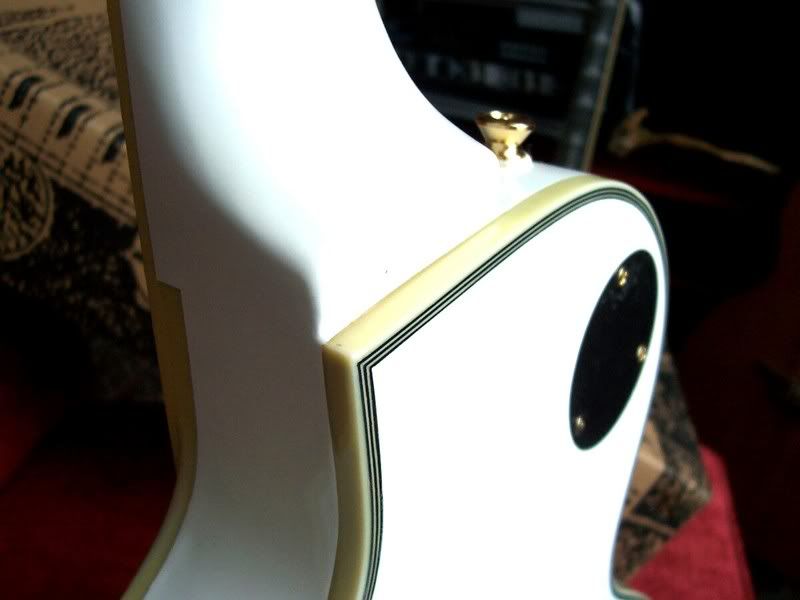 It's an Epiphone Les Paul custom BTW.

Join date: Nov 2004
60

IQ
Yes, it's harder to reach higher frets on single-cutaway guitars like teles and les pauls. That's the reason why double-cutaway guitars like the strat and sg were invented.

EDIT: it's not impossible though, but it will be uncomfortable until you get used to it and even then it'll never be as playable as a double-cutaway when it comes to those frets. Another thing is that since you have a double-cutaway (i'm asuming an ibanez or some other superstrat-shaped guitar) u'll have to get used to the les paul's thicker/wider neck as well.
Last edited by evening_crow at Jun 18, 2008,

Join date: Jan 2008
10

IQ
dey is pain in da assholes to reach the top frets very sux=[[

Join date: May 2008
20

IQ
I've never had any trouble reaching the higher frets on my Les Paul.
Go out and test one. It's the only way you'll know if it's bearable.

Join date: Nov 2004
60

IQ
Go out and test one. It's the only way you'll know if it's bearable.
Yep... some ppl just don't like the feel of them. I personally love my LP but still prefer the playability of my Telecaster over it.

Join date: Jan 2008
130

IQ
i GOTS A SINGLE CUT ESP. i DROPs my thumBs to Da midDLes of the neCKs or lOwer to reach da HIghEr Frets. I is USed to It nOwz.

Join date: Aug 2007
41

IQ
Robert Fripp, Zakk Wylde, and others seem able to manage it. There are easier neck heels to work with but you can manage.