Graffiti at the London Guitar Show.
The story starts very early on Sunday morning. Myself and Two others got ourselves out of bed early and made our way to the Excel Exhibition Centre. We arrive moderately early compared to most people, so the trio made our way around the main section of the Show we came across a Large Blank Black board fully stocked with Chalk just aching for us to use it.
The Three of us set upon this Long black behemoth, Covering it in our childishly poor drawings and messages.
It was only after we noticed that this board was in no way there for us to doodle on however it was for something completely boring, such as personal details for jobs. However It's beyond me why they wouldn't want to use paper......
But anyway Here is Part of it we photographed for you all!
Due to increasing pressure to post the image. ( Which even isn't that good to be honest. )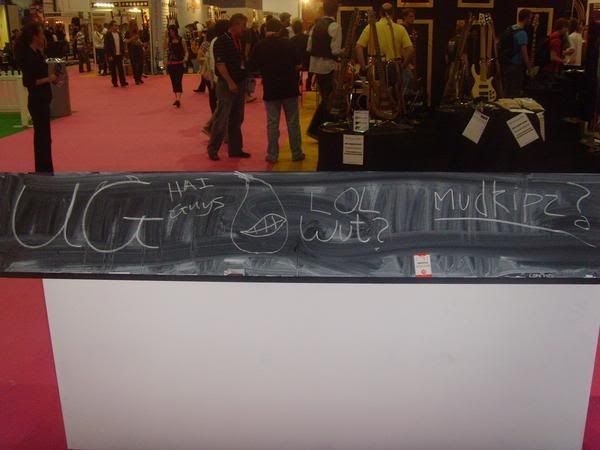 If the mod's don't like it I will take it down Sharpish.
Last edited by flyingmarlin at Jun 18, 2008,
Join date: Apr 2007
30

IQ

Join date: Dec 2006
40

IQ
The pear?

-incoming banhammer-

Join date: Feb 2006
224

IQ
Ha, I saw that board, but it was covered in loads of scribblings. It was near the Cornford stand, I believe.

Join date: Jun 2007
20

IQ
I don't like your avatar.

Join date: Feb 2008
90

IQ
I don't like your avatar.
His avatar is gorgeous.
About the picture: LOL.

Join date: Aug 2006
80

IQ
you forgot to put down b.u.t.t.s.e.... you know what comes next... and i don't wanna get warned...!
If I saw you drawing that I would ban you irl.
The pear?

-incoming banhammer-
**** good point.
The pictures been taken down, until i get approval from a mod. I value my account.

Join date: Apr 2005
30

IQ
Never EVER randomly capitalise the first letters of words that do not need it. It distracts people who are trying to read your post, a thankless task at the best of times.
i want pics. Who's with me?

Join date: Feb 2008
90

IQ
They won't ban you for that, brother. It's not like you posted the 'lol wut' picture out of context like people used to do. Hell, I have posted pictures of pears on these boards a dozen times and nobody cared.

Join date: Aug 2007
91

IQ
unoriginal content killed /b/ please dont kill my beloved black boards

well lets see that picture!
if not, a PM will be acceptable.

Join date: Jun 2005
10

IQ
lol yea i tried on sunday to write my bands myspace with a 1 cm long piece of chalk
Post the damn things already!

Join date: Sep 2005
70

IQ

Join date: Nov 2007
20

IQ
gimme the pic you stupid d*ck
*disclaimer* the last part was for rhyming purposes only, please take no offence

Anti-climax

Anti-climax
I told you!
You guys are an excitable bunch!
Building yourself up for nothing.