3-way switch troubles
Hi.

I has an Epi SG Special II. I've had it for a year, and I love it except for one problem. About two months after I got it, the three way started doing funny things. It would just randomly stop sending signal, if I jiggled it around long enouhg, it would start again. When I switched pickups, it would often stick in between selections so again, no signal. So I put in a new three-way. It worked great for about a month, and then again... same deal. I took it to a "professional" at the local audio-video shop (he's an epi certified tech) and he put a new one in. Its been a few months and again... same thing.

My question, anyone know why its doing this? I mean, could it be a wiring thing? I'm on the verge of trading the guitar in and picking up a new one because this is very frustrating... I'll be mid jamming wiht people and all the sudden, no signal.

Thanks in advance.

-zC

Join date: Dec 2007
140

IQ
the switch looks like this:

-E

the ground is the minus on the left

the top of the E is pickup 1

middle is output to jack

the bottom is pickup 2

Hope this helps.

Also, sometimes you get:

_
_
_ground
_
_

In this case, bend the two inside together like this >
i'ts funny because i just posted this somewhere else today.
first of all, epi switched fail. sometimes, the replacement switches also fail.
some will say to try blowing compressed air or pot cleaner wt lube into the switch cavity in an attempt to clear out the problem.
if he put in a sub par switch, it could just be, that's the problem. if there's dirt in there, or a bad solder joint, that also could be the reason.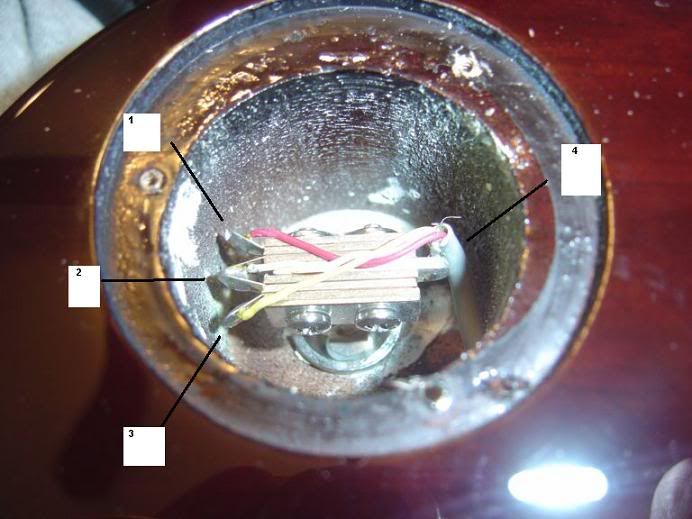 that's how it should look.
if you want, let him spray it. or if you want to, then pick up some pot cleaner wt lube,
or buy another switch after making sure it's together correctly. but dont give up on it.
is there an image behind the "that's how it should look" that my compy is blocking?
yeah, i guess it's blocked for you.


it's a picture of the bottom of an epi switch and the connections.

just open ur cavity and see if 3 wires are connected.

mostly likely it'll be bad dirty or bad solder joint anyway.
hmm... mine is a "long switch" so its different... but I'll try and find a picture of that.

Thanks for the help.

Actually, found a lose connection and resoldered it. Thanks
ok cool

I had a similar problem. I couldn't use my bridge pickup forever because it just wouldn't switch to it, so it was more like a toggle switch than a pickup selector. Eventually I couldn't use either the neck or bridge, so I took it in and had it looked at by a guitar tech.

No problems since.