Jackson Dinky FT/possible sale
Looking to trade my Jackson for something different or possibly sell.
It's kind of a DX10D (that's what the body is from) but it has a different neck on it. I got the frets polished and the fretboard cleaned up a few days ago. Never had to adjust the action once (I've had the neck for 3 years). It's got buzzing on the 1st fret low e string due to the way I have the nut glued on. Personal preference but you don't really hear it through distortion. The bridge is blocked (better that way) and the intonation is slightly off on the high e string. It was a temporary bridge until I saved up enough for an OFR but didn't work out. Does the job though. Pups are just from a box of parts I had but they sound good. The body is also in really good condition. Close to mint.
I'm looking for another guitar, an amp head or whatever just make an offer. I live in Canada so please keep that in mind.
Pics: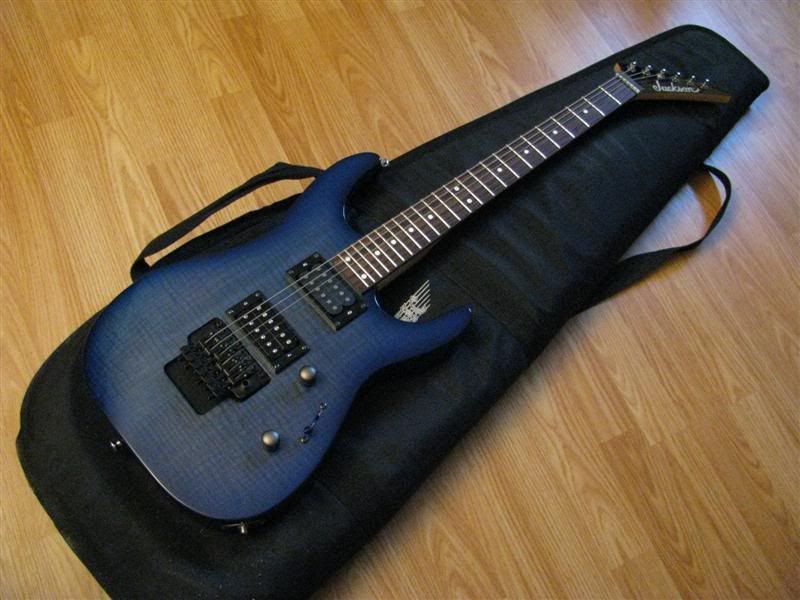 http://i160.photobucket.com/albums/t193/CM_X5/IMG_1317Medium.jpg
http://i160.photobucket.com/albums/t193/CM_X5/IMG_1315Medium.jpg

Join date: Feb 2007
150

IQ
How much were you looking to sell for??
Sorry for the late reply. I'm sorry but I can't give you an exact price, just make an offer and I'll think on it. Just don't low ball that's all I ask.

Join date: Jun 2008
20

IQ
how much is it? i dont really know the price of that guitar.. can you give a price range?
That is SO sexy. UK, USA, where?
Well how about $375 shipped? Also I'll have to make it Canada/USA only because I don't know if anyone is willing to pay shipping to UK. I don't even know what it would cost to be honest but from the sounds of it not very nice.

Join date: Jun 2008
10

IQ
trade for fender MIM in white
Is it the HSS Fat Strat or are all 3 single coil?

Join date: Jun 2008
10

IQ
it looks like you got a neck from a cheapo made in india jackson. is that right? the blocking of the trem would be neccesary cause you dont have a locking nut. in short what i'm saying is ask a fair price. i got my dx10d used but in perfect condition for 200 and new they sell for just over 300.