FS/FT: Behringer V-Amp Pro Rack Unit
Got this as part of a deal I made with a guy on Craigslist but I already have a V-Amp 2 so I don't need it.
Comes with:
V-Amp Pro

Manuals

Behringer info booklet

Power cable

Box

There are two strips of velcro on the bottom of the unit (the "hooks" part of velcro). The only problem I see with the unit is that it has two broken knobs (Gain and Effects). They still turn, you just have to use something like a pen cap. The easiest way to modify patches on this unit is with the free software available from the Behringer website anyway.
Here's what the Behringer site says about the unit:
Not just for Pros—the V-AMP PRO is the 19" rack-mount version of the V-AMP 2 with extensive MIDI and digital connectivity. You get an impressive collection of 32 classic amps, 15 legendary speaker cabinets and 16 studio-quality effects: everything from vintage combos to supercharged gain monsters. Store your own presets in the 125 memory locations or get presets developed by today's hottest players. Go to our ToneLibrary to get even more!
The V-AMP PRO includes pre-DSP send/return and post-DSP stereo inserts as well as balanced stereo XLR DI out with ground lift. A BNC wordclock input for synchronization and a 24-bit/96 kHz digital output with AES/EBU and S/PDIF connectors. Plus, it has BEHRINGER's exclusive auto wah and rotary effects and DI output with ULTRA-G cabinet simulation designed by famous amp designer Juergen Rath. The V-AMP PRO is your best partner in the studio—but you can also take it to your next gig!
My images: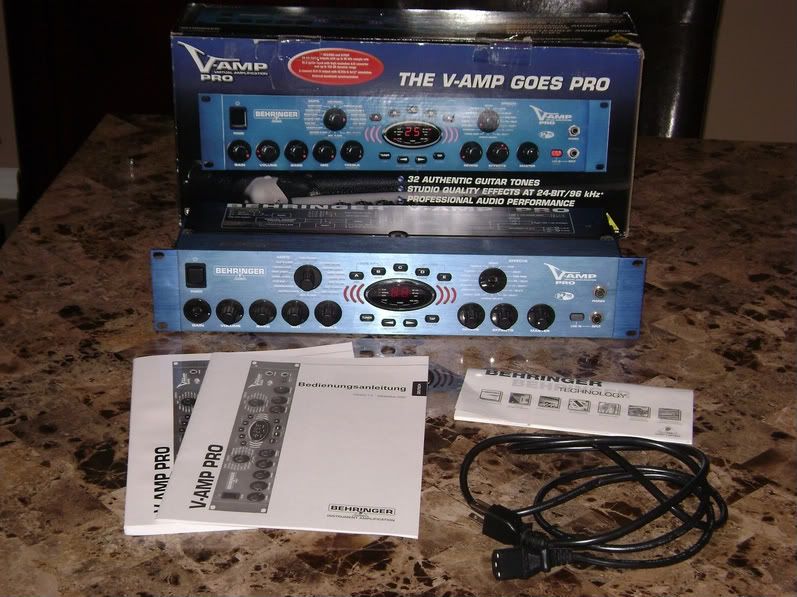 Behringer images:
$100 shipped in CONUS. Might be willing to ship elsewhere but shipping will probably be a little more.
I'm open to just about ANYTHING in trade, just throw your offers out there.
Reply here, PM me or email me at basutton (at) gmail (dot) com
I have plenty of good deals over on Harmony Central if anyone needs references, plus about 50 positive feedback on eBay.
I have a digitech rp300a multifx and a digitech deathmetal if your interested. If you want pics let me know

Join date: May 2007
100

IQ
100$ is a steal for this fantastic piece of gear...anybody would be mad not to go for it!

except me..I got the LX1200H head version :P
I have a digitech rp300a multifx and a digitech deathmetal if your interested. If you want pics let me know
Thanks for the offer but with the V-Amp 2 I have I'm pretty much set on multi-FX and I don't really play metal.