FS/FT: Modded metallic red Fender Squier Stratocaster, Fender Frontman 15G
Selling my guitar, the Fender Squier Affinity Series Stratocaster, it's metallic red, and modded (mod cost about $35 to do) so you can get a humbucker-like sound out of the bridge/middle pickups, and a killswitch (in mini-toggle form) when in the humbucker-like mode. In other words two mini-toggle switches added to it. Good low action on it, plays great. Has one small gray scratch on the upper horn.
Entertaining offers/trades, but I'm thinking about $90.
Also a Fender Frontman 15G practice amp. 15 Watts of solid state power, has an input, headphone, and auxiliary jacks. On/off switch, two channels (clean/overdrive), a gain control, and a 3-band EQ, and seperate volume controls for each channel. Amp is in mint condition. Same as above, entertaining trades/offers, but I'm thinking somewhere around
The switches on the guitar are mounted in this position: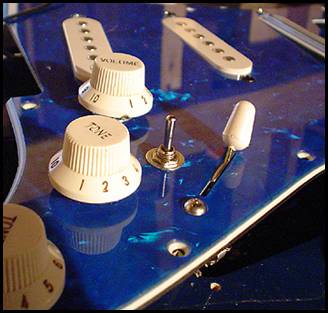 And the other switch is mounted right next to it (in this picture it would be to the left). The switch pictured here would control the humbucker-like sound, and the other switch would control the killswitch.
BUMP!!!1!!

are you interested in a set of active EMG's for that guitar??
i'm interested in your strat. can i get more pics? like of the headstock and stuff?
are you interested in a set of active EMG's for that guitar??
Uhm... No thanks.
i'm interested in your strat. can i get more pics? like of the headstock and stuff?
Yes, I'll take some pics right now. And later, if you want, I can take some recordings with and without the mod. But not now...
Anyway, pics:
The resolution of the pics is kinda big so I did this in thumbnail form.
Forgot to add: I've done some more stuff to it, and I'm looking for a bit more than the original price of $90. Also I gave it a restring and adjusted the action a bit, and it's strung with Ernie Ball's Power Slinky's.
free bump sell this son of a gun dude and get that gear u want!
im interseted but id like to know in the first pic at the top is that reddish spot just glare?
If you're talking about the big picture of the front of the guitar, then I think you mean that yellowish spot on the pickguard? Yes, that was a lamp shining on it. The pickguard is perfectly white.
If you were talking about the first thumbnail (headstock), then I think you're talking about the thing in the wood... Yes, it's just in the wood.

Or are you talking about the amp? If so, the amp is in perfect condition. It would help if you edited whatever picture you're talking about and put a little square around the spot that you're questioning, because I'm not entirely sure I know what you mean.


Also, I forgot to add that I will ship it in the soft Fender gig bag it came with!

Join date: May 2008
10

IQ

Join date: Jul 2007
110

IQ
I'll bump you, just because I saw the link in your sig

I'll bump you, just because I saw the link in your sig
Thanks! And while I'm at it: Bump.


Join date: Aug 2006
240

IQ
I saw it in your sig too. I would buy it if I had the money.. sorry dude. If I find $100 on the ground then I'll buy it lol!!

Unless you want to take a broken ass yamaha EG 112 for it? I don't think so, because the electronics are destroyed. lol PM me if you do! BTW its black, and I think theres a pic of it on my profile.

Anyway bump.
Thanks for the bump, but nah, I'm looking for a different guitar

. If I thought it looked good I would trade and just rewire it, but it's basically like the same guitar as the one I have, just a humbucker in it... No thanks, but thanks for the free bump!

Join date: Apr 2008
10

IQ
so you are looking for 45 for the amp? I am interested in it.
I'll buy this guitar from you cash. I have the money right now.

PM me.
PMs sent

. Amp and guitar are both on hold for now.

Join date: Dec 2007
20

IQ
Amp available again, guitar still on hold.
Both available again! Make an offer! It is, after all OBO.
Unbanned! Still both for sale! Make an offer if you'd like.
I'm interested in the strat, anything particular you'd trade for it? I've got a lot of stuff.
I'm mainly looking for cash, but the thing I've been saving up for, for a while now, is an Epiphone Firebird. If you have one (which I'd doubt), I'll trade my strat + cash (+ maybe some other stuff) for it. I have about $170 right now. If not, I'm honestly only looking for cash. But if you have any other guitars for trade/sale, tell me about them, I might just be interested in them...

Here's a bump for you...
Would you trade the Strat for the guitar below? It is (according to the headstock) an Ibanez GAX30. I also have a soft Ibanez gig bag for it. I can/will take more pics if necessary. Thanks for looking.
My guitar

Join date: May 2007
283

IQ
I'll bump you, just because I saw the link in your sig
me tooo