UG picks an indestructable guitar
Complete this paragraph UG.
The airline guys called me up and said I'd better come and see. The flight case was completely shattered under the load that had fallen from the forklift. I prepared myself for the worst as I pried the pieces apart. I shook the flight case debris free and played a lick. There were a few scratches in the paintwork, but bugger me if it wasn't still in tune, the impact didn't even seem to have affected the intonation. I love my insert guitar here
Ok UG, what we're trying to do here is nominate (or design) the hardest guitar on earth to kill. The one that follows your band around for years as a backup guitar and no matter what you do to it, it just keeps on rocking out.
Body
: I think it's safe to assume it's going to be a solidbody. I don't see anyone giving a Gibson ES to Freedom Airways. The question is from a selection of the most common tone woods alder, mahogany, basswood and maple, which one is going to be hardest to kill. Also which construction method will take the most beating, will it be a one piece flat slab, a carvetop or a laminate job (like a 5 piece cheap strat).
Also will chambering make a difference to the longevity of the guitar? I'm not just going to assume that the hardest wood wins either, because a softer timber might absorb impact better, as might a lighter guitar if it were dropped (so chambering might actually help)
The other consideration with the body is it's resistance to liquids. Will it deform if soaked in beer on a nightly basis for 20 years? which tonewoods are most resistant to damp, beer and coffee? Which finishes will be easiest to wipe blood off (I wouldn't have thought it was an issue either). Will tung oil stop your guitar from becoming a bounty towel for vomit?
Neck
I love Les Pauls, but I wouldn't ever give one to an airline. Can we assume then that we're looking for something with a straight pull headstock and a bolt on or through-neck, cos we all know where Gibsons break. How many "I broke my G400

" threads have we seen? If it is to be a bolt on, then are we going for a Fender style neck plate or just screwing straight into the wood? Will the through-neck take more abuse?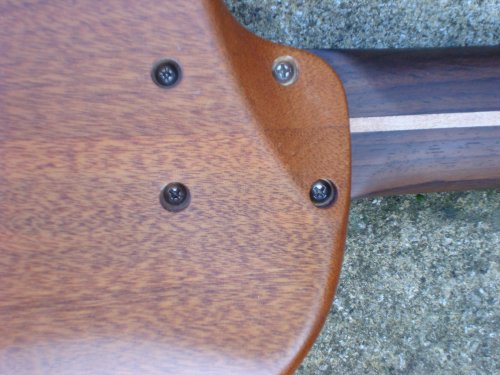 Their are a couple of considerations I can forsee with the neck itself. The first is do we want a straight lump of wood, like with a bare bones fender, or some laminate job with about 7 pieces of wood in it like an Ibanez? (see the
The JEM Site
for details) Will the JEM or the tele fair better when it hits the stage? Also, does having a rosewood or ebony fretboard add any structural strength or add to intonation stability?
Hardware
We probably don't want a plastic nut, because they wear out. Possibly graphite then to extend the life of the strings? How long does Graphite last?
With the bridge we've got to consider holding intonation, not breaking strings and surviving being dropped on it's face. Initially I was thinking graphite saddles on a string through telecaster bridge, but a toploading bridge might be easier on the strings by eliminating the 90 degree bend. There's also the possibility that a floating bridge might actually absorb more impact in it's springs rather than transferring the shock through the wood, but I think it would probably require a setup if you hit it too hard. A les paul style tailpiece will always hit the ground first, and it's on pretty chunky screws to spread the impact, but my money's still on the tele angle bracket.
The plastic pickup mounts on carvetop guitars break too, after like the 100,000th pick strike the mounting on your bridge pup caves in. I'm leaning towards mounting them in a flat pickguard (or a tele bridge) but that might just be cos I'm tele predudiced.
Wiring
Becuase this would be a backup guitar, it'd be nice if it had three seperately switched humbuckers, with seperate volumes; tone pots; coil tap and out of phase toggles, (that's 6 switches and 6 pots), but we've got to consider reliability. We're building this guitar with the intention of spilling a lot of beer into it, if it's got more wiring than a new lexus, it's not going to be easy to fix in a hurry. What's going to be our best plug and play setup. I'd be leaning towards a bridge bucker, neck single, 3 way switch and tone and volume. That might be overcomplicating it. We're open to suggestion. Gotta be reliable above all.
Oh and it's gotta have straplocks you can tow a Jeep with, I love Schallers myself.
If you could be assed reading all that, suggest your unbreakable guitar.