ULTIMATE PEDALBOARD PARTOUT! Look, I seriously have nicee gear. TU-2,DD-3,BUDWAH,etc.
Hey guys, how's everyone doing? Well I hope.
Here's the deal: Since I went to college, I unfortunately don't have much time to play guitar, and therefore do not need the setup I once used for gigging. I've got a serious amount of gear to get rid of...in addition to this stuff I also have a Fender Hot Rod Deluxe that I'd like to sell, but don't know if I'd like to ship (fragile).
I've sold and bought
many
high priced items via la internet, and even sold a $1100 Jackson SL3 Soloist right here on UG. It was sold to Metalocalypse54 here on UG, if you have any questions about my honesty/integrity with regards to online deals, feel free to PM him, we worked out an excellent deal (I hope that's not against the rules, if it is PM me and I'll delete it.
I'm also an avid paintball player and have great feedback on the largest paintball messageboard in the world: PBNation. Here's a link to my feedback:
click
I have one positive feedback on eBay (I'm a new ebayer, only sold one item so far). My ebay account name is matthewrlima (which is also my full name). Feel free to check that feedback also.
All of these items will be listed on eBay as well, so if you feel more comfortable there feel free, they should be up within the next hour or two.
Ok so, now that you trust me, here's the gear for sale.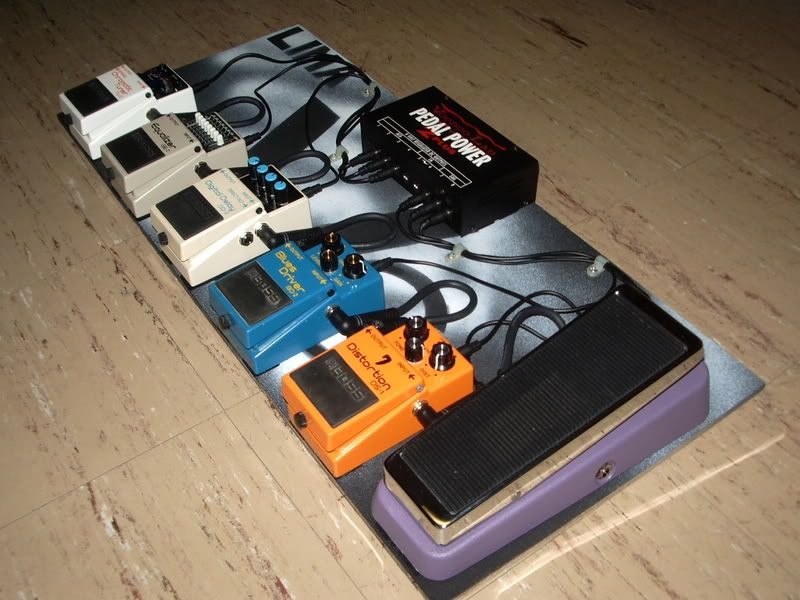 Here's what's for sale: (Everything is mint and in perfect working order) - Shipping is minimum $5.65 and will go up from there (probably only for the wah or if the whole board is bought)
1. Budda Bud Wah - $100 + Shipping
2. Boss DD-3 Digital Delay - $60 + Shipping
3. Boss GE-7 EQ Pedal - $50 + Shipping
4. Boss TU-2 Chromatic Tuner - $55 + Shipping
5. Voodoo Lab Pedal Power II - $75 + Shipping (Has 6 9v DC adapters, NIB would come with 5, but I traded a 9v DC for a 9v connector)
What's not for sale: The Boss DS-1 and the Boss BD-2(I don't have it anymore)
Add a planet waves gold plated right angle patch cable for $7 (I have 5, maybe 6 of these)
Buy the whole board for $350 + shipping with the patch cables and the board itself (nicely organized and painted).
Preferred Method of Payment: Paypal
Accepted Methods of Payment: Paypal or Money Order
Thanks guys, any questions PM me.
Matt Lima
NO TRADES NO TRADES NO TRADES NO TRADES NO TRADES
Your BudWah is tempting me :p Are you willing to ship to Poland?
Sorry sir, no international shipping.

Thanks,
Matt
Read the forum rules.
Rules:

Rule #2: No advertising... kinda.

IF ITS ON EBAY, ITS NOT ON UG.

Very interested in the Pedal Power! Still have it?

Join date: Nov 2007
26

IQ
how much for shipping to the D.C area? i'm interested in the TU-2

Read the forum rules.
Yes, I realize this mistake now, therefore I'm going to let this thread sink for a week and see how things work out on eBay. Sorry for the inconvienience, guys. Check back in a week to see what I have left.
Thanks,
Matt
Hey guys, I just PM'ed UtBDan to get this thread closed up since I didn't pay attention to the rules...I'll repost in a week should I have anything left.

Again, sorry for the inconvienience I should've read the rules before posting.

-Matt