new motorcycle

Join date: May 2005
10

IQ
So I want to get a motorcycle, but I really don't know where to start. I've driven plenty of motorcycles and dirt bikes and the works so I'm not new to them, I just never really knew too much about them as far as brand, model, engine, CC differences etc. The style I want is an old school chopper like the one that Peter Fonda drives on Easy Rider. The kind with the long handle bars, but it doesn't ride the ground like the ones today do. Oh and btw, my budget is in the $1000 range so nothing brand new or too expensive. Any help appreciated, thanks.

Join date: Jun 2006
30

IQ

Join date: Jan 2007
20

IQ
dude a nice road style honda would fit you mits peace keep rocking
If you want the one off of easy rider you can find replicas on eBay...
But they're usually over $20000

try to find something used, maybe look at ads in the paper
I've been looking at some used Honda's on eBay. People say they are good starter bikes and they arn't too expensive.
Honda Rebel 250cc, its the perfect beginner bike and has been for many years. Its small and light, but powerfull, well built, solid, and will last forever as long as taken care of. You can get one new for about $3,200. Obviously don't get one new if your just starting out though, you will wreck and bang up the bike, don't think you won't.

Hope this helps, I really recomend this bike.

Join date: Dec 2007
10

IQ
dude, honda's are badass. their is a late 80's model that's really cool, i think it's a magna. and as far as cc, the bigger cc, the bigger the bike, and engine.
You are going to be severly limited with a budget of only $1000 for a bike. Pretty much anything for that amount is either going to be very old, need lots of work, or both. Not wise for a new rider. $2500 to $3500 will get you into a decent starter bike.
Exactly how much (time/mileage) experience you have on street bikes?
And if you want a bike for actual riding rather than posing, you do
not
want a full-blown chopper like Captain America from Easy Rider. A hard tail with forks and apes like that and no front brake is not exactly a practical ride.


Join date: Nov 2006
50

IQ
i like sports bikes, i used to have a honda cbr600, great bike to ride upto 150mph, sold it last year with the plan of buying another this year but we have just had our 2nd child so the bikes on hold for a while
Join date: Jun 2008
110

IQ
give this guy a call.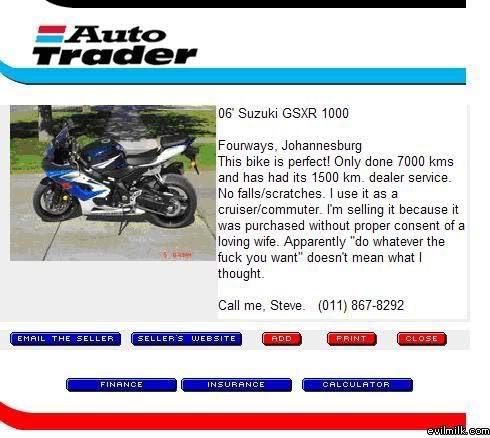 edit: but really, do what ziggy says.