Need Help on First Build with Thru-body Bridge
Ok search bar returned nothing so here it goes.....

i have a ibanez project i am starting and i wanna put a thru-body bridge in/on the guitar
is this possible? and if so where can i get the bridge and how much is it going to cost me?? any help will be greatly appreciated
Last edited by josh15742 at Jun 25, 2008,
let a professional do the work or you will be sorry. It will be in the range of $200 to $350 depending on the bridge you want (i assume tonepros locking?).
ok can you recommend me a good locking bridge that i can put on myself?

Join date: Apr 2006
10

IQ
I dont know what you mean by thru body bridge?

Do you mean a Tune O Matic bridge, with string through ferrules, or a Hard tail bridge where the strings go through the body as well?


and this Ibanez project, are you making the body or adding a bridge to an existing body? If its an existing body, is it already routed for a Floyd Rose? If it is I'm not sure I'de bother.
okay here goes.......
1. If your guitar is a hardtail, vintage style vibe, or equipped with a floyd, you will have to route out the body of the guitar (drill 6 small holes for the strings) and then add small metal retainers into the new holes you have drilled. These small metal pieces keep the strings from eating into the body. These new holes have to lined up perfectly straight to the tuning pegs (E to E peg ect.) they also have to be a certain distance away from the bridge to insure the right tension and intonation.
2. If it is not any of the above you allready have a string thru and a good bridge is the tonepros tune o matic locking bridge.
3. if you chose to do this yourself you will ruin the guitar and will never be able to sell it.

okay, not the pegs, the saddles to the bridge. sorry
Last edited by tracerbeast at Jun 25, 2008,
this is the guitar
sorry for the crappy cell phone pics but any way
Edit* and that is not my horrible sanding job the kid that had it before me tried to sand the clear coat away with the wrong grit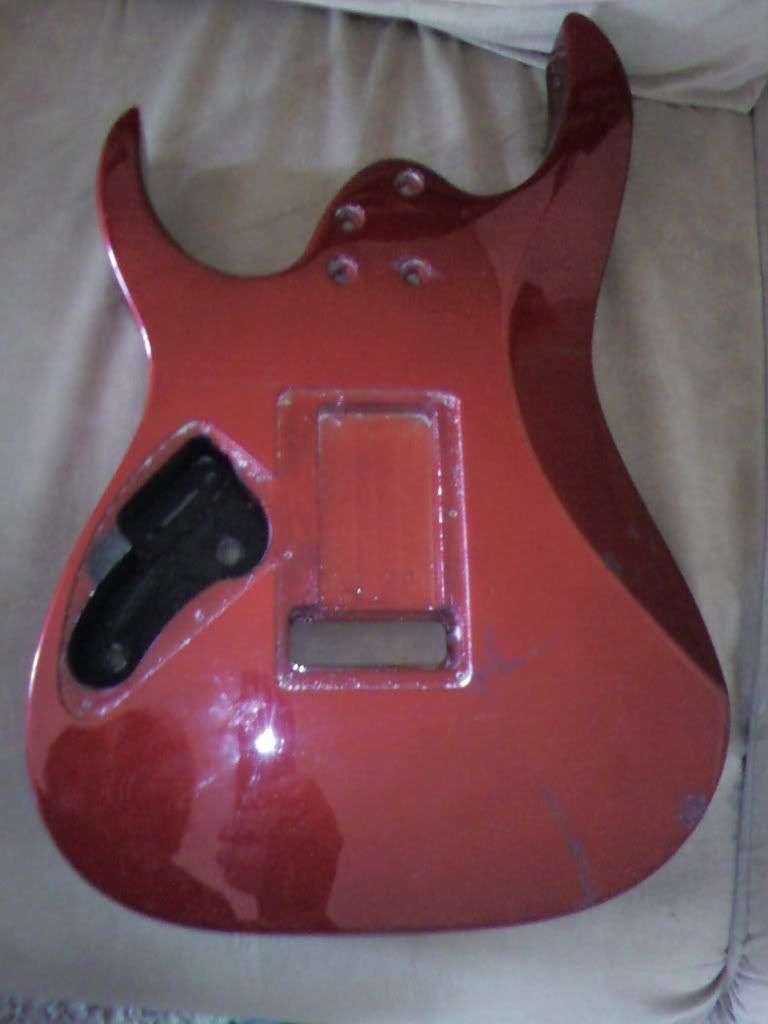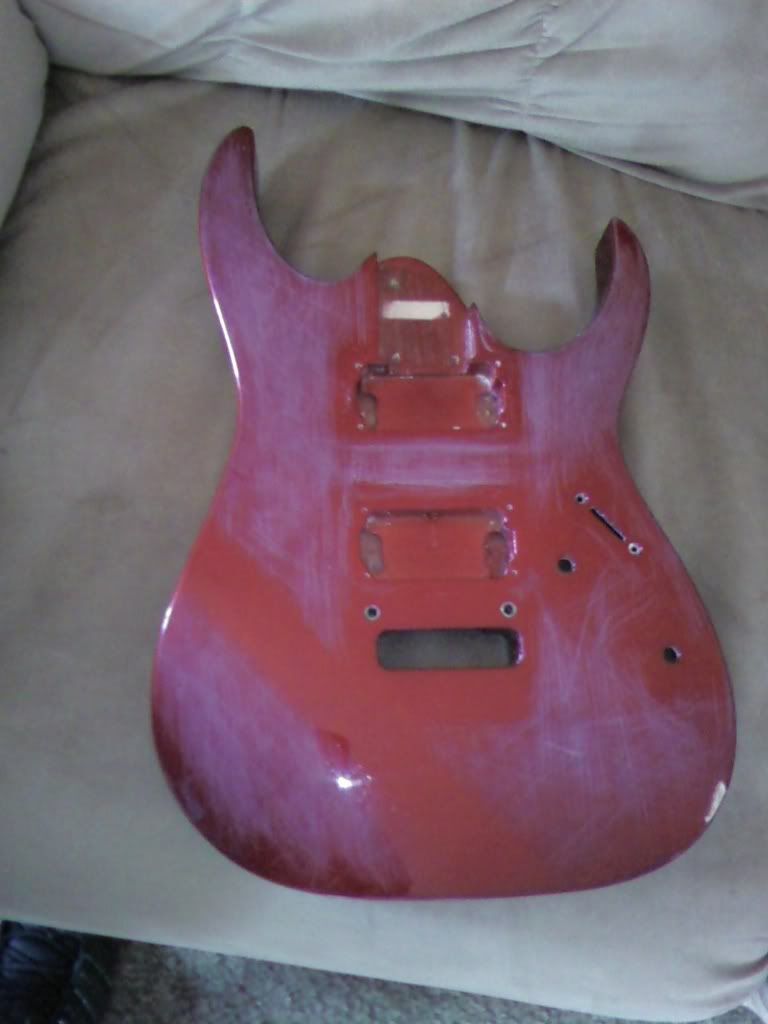 Last edited by josh15742 at Jun 25, 2008,
ibanez rg body. Theres to much work to be done. It would cost you a fortune to put a string thru on it. First you would have to fill in the floyd rose cavity, do #1 and put new bridge posts in. Its not worth it you could buy a brand new rg with a string thru body for that much.

Join date: Apr 2006
10

IQ
Well that obviously needs a re finish any way.

So you gotta sand everything down to the bare wood,

find blocks of wood to glue in to and fill up the trem cavities (as close matching as possible)

plenty of wood filler to smooth over where you have filled the cavity

sand it down flush

drill holes for new bridge

re finish.
ok i sort of figured that but now my next question is

i want a locking bridge what one should i get?


edit** thank you absent mind your a very big help
Last edited by josh15742 at Jun 25, 2008,