UG Summer House Party!
yes, it's that time again..the parents are out in an exotic vacation
and they left us the keys to the city-erm...i mean HOUSE..
we've got the whole summer to ourselves for..PARTYING!!
GET YOUR GIRLS! GET YOUR GUYS! GET YOUR FRIENDS!
cuz your all invited to... The UG Summer House Party 08!
well i'm bringing Andrew W.K. and Twister!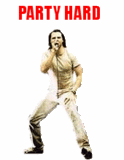 who/what you guys bringing!?

and let the festivities begin!!