Epiphone Les Paul Custom Alpine White for Sale!!
Im selling a 2004 I believe, Epiphone Les Paul custom in Alpine white!!
This guitar plays wonderfully!!! The humbuckers really bring out a nice crunch!!
It has Ernie Ball power slinkys on it currently & has included gold Dunlop straplocks
I am selling it with the epiphone hardshell case i have for it, this thing is amazing at how wonderfully it protects this beauty!!
The guitar is overall in great condition!!, any normal wear on it is hardly seen, one because of the white color, but mainly because i have taken care of this baby and made sure nothing happened to it!!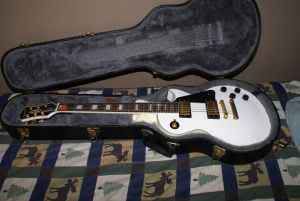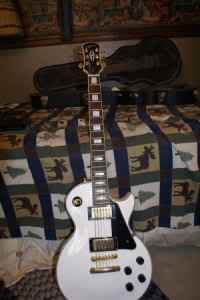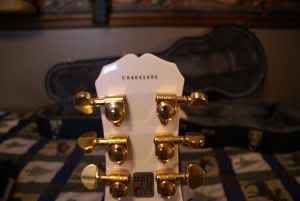 i forgot to add the price sorry...

i was hoping somewhere around $450

Join date: Feb 2008
160

IQ
eeek. i want one of those.............
ya, i love the customs, but im looking for a Hellraiser or EC-1000
man... i'm planning on getting a Epi LP Standard, but i'm still saving up for that, but i don't know how long it'll take.

It this thing will stay on here another month, i'll have the cash for it by then. But no biggy if it doesn't.

Thanks for ruining MY day! haha.

Join date: Oct 2007
220

IQ
Wow, really cool. I am willing to swap my rare bass for it? Check my sig for pics.

Join date: Mar 2008
30

IQ
the only trades i would consider is a schecter hellraiser or esp ec-1000..i plan to add $$$ to that trade
hey is this still for sale?

Join date: Apr 2007
40

IQ
Will possibly trade my Hellraiser for it if you pay shipping on both ends and add like... $75. Though I see in your sig that you may already have a Hellraiser on the way. Let me know.