F/S UK only - 2 Les Paul's with FR's & Sustainer & more
Got 2 les pauls here,

Possible sale if the right price is offered on these 2.

1st is an Ebony '88 LP with a Floyd Rose Unit & Gold Behind-the-nut-lock in it.
Great Condition, no problems.

2nd is a Flametop (not veneer, an actual top on it) Heritage Cherry LP Standard, Gotoh Trem with a Chrome Behind-the-nut-lock on it with a Sustainer Neck-pup.
Again, great Condition, no problems.

For sale also is an Epiphone Dot Studio in Ebony with an Epi. Hardcase.
Great condition, no problems either.

Epiphone Les Paul Standard '99 in Ebony, all stock, good condition.


Make offers people.

Pictures of the first 2 are in my thread's I've made in the GB&A forum.
just post the pics here again. you're making it harder on yourself to make a sale if we have to go searching through multiple threads and different forums and stuff. just trying to help you out, man.

Make offer's, I may accept on the first 2 LP's!
I also have a Marshall 8008 Poweramp for £80ono
1st LP: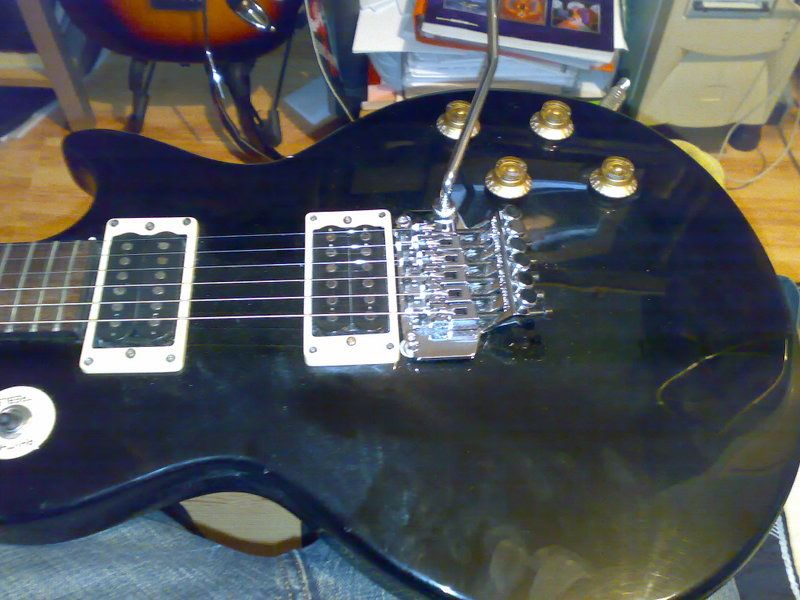 2nd LP:
There's the other LP & the Dot Studio behind there.
Make an offer, it has an Epiphone Hard-Case (although rather tatty) to match it and the guitar's in pretty much tip-top condition, other than the odd picking scratch.

Join date: Feb 2007
50

IQ
what guitar is the 2nd picture? would you take trades
id rather you threw a price out there of what your expecting, considering the studios go for pretty cheap anyways, id rather negotiate on a price you set

Join date: Jul 2007
40

IQ
Interested in the Dot, would you post to Bristol? Cheers.