Thinking about new tab formats/displays, would love some feedback!
Hey guys!
I'm something of a beginner when it comes to music theory, and a drummer when it comes to guitar. Looking at guitar tabs for many years I've always lamented that rhythm is often ignored or sacrificed when it's such a crucial part of any melody or song structure, and that tabs by their very nature cannot visually indicate or hint at the feel and playing technique of a particular passage.
Combining guitar tabs with some other formats that I think are slight improvements in this regard, namely drum tabs and Guitar Hero, I've started toying around with a more graphically-based system of tab notation, that, as a laugh, I'm tentatively titling 'CompleTab'.
I'm hopefully not arrogant enough to say this should be used instead of tabs, because there's no truth in that whatsoever. But CompleTab is a means of including more information in the notation and hopefully making it a little bit easier to sightread.
I've got the whole system pretty much fleshed out, and I've prepared a snippet (the solo from Nothing Else Matters by Metallica) to post here. I'd love some feedback from all you tabophiles; is there any worth in this? Does it need more explanation? Does it work for you? Let me know!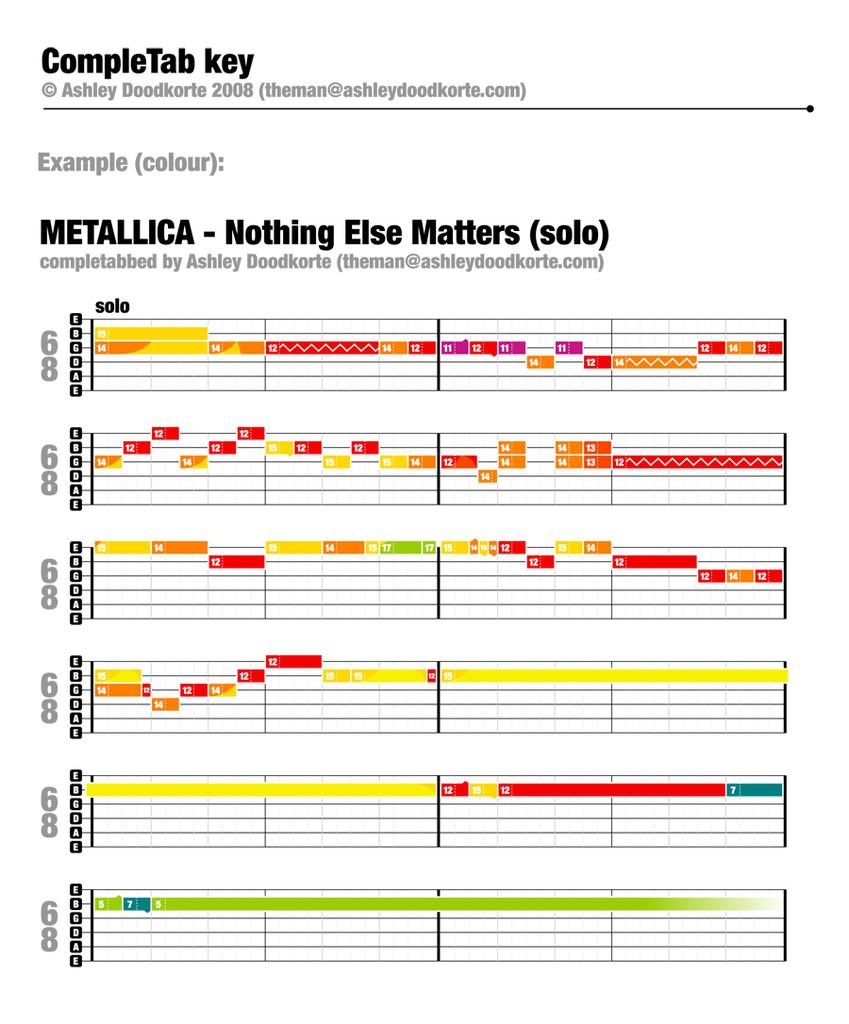 Also, because tabs are so very often printed, there are greyscale versions for those with no colour printing facilities.
Thanks heaps guys, have a good one.
- Ash