pickguards

Join date: Apr 2008
10

IQ
well my dad came up with an idea for a "custom pickguard" rofl its part of a folder i think? XD will it work?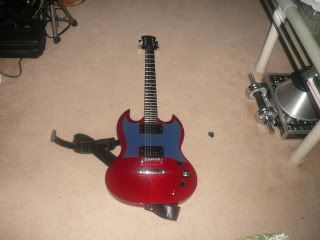 the little black thing next to the guitar is my pick

Sure it'll work, but I would have gone with a different color...
Try and get a pickguard from a Gibson SG or a higher end Epiphone.

Join date: Mar 2008
20

IQ
Blue and red? Unless it's police lights...doesn't really mesh.

Maybe with a black or white folder, bt not a blue one so much. Not bad design-wise i think tho, and it could work.

Join date: Oct 2007
70

IQ
ya design is nice, color is ...well....
yeah color aint working but probly pretty easy to change that

Join date: Jun 2008
378

IQ
That's the most tacky looking thing i've ever seen


Join date: Apr 2008
10

IQ
i noe its not temporary im lookin for a black one XD it may be tacky but i choose to be "unique" O.o

Join date: Jan 2006
130

IQ
Blue and red together is the colour equivalent of a tri-tone.