FS UK: MI Audio Crunch Box
Hi, im selling an MI Audio Crunch Box (the one with the presence control inside). It is in very good condition considering it is a stomp box. I dont have the original box or documents unfortunately, but it will be shipped in a boss bd-2 box and i can chuck in a good quality patch cable if you need one. im looking for around £65 (that includes first class postage of course)
I think these are hard to get in the uk, they are handmade in australia or something, i dont really know. What i do know is that is sounds great. there is a video on youtube by proguitarshop which really shows how this can sound. I do love its sound but i have loads of stuff that does the same sorta thing, but as this is worth the most and i need money i figured this could go. Ill probably regret it so grab it before i change my mind! If you have any questions then please ask, i am also thinking of selling a digitech bad monkey - the paintwork is fairly battered but ive never had a problem with it whatsoever, just cosmetic damage. if you are interested then make me an offer

£65 inc. p+p for the crunch box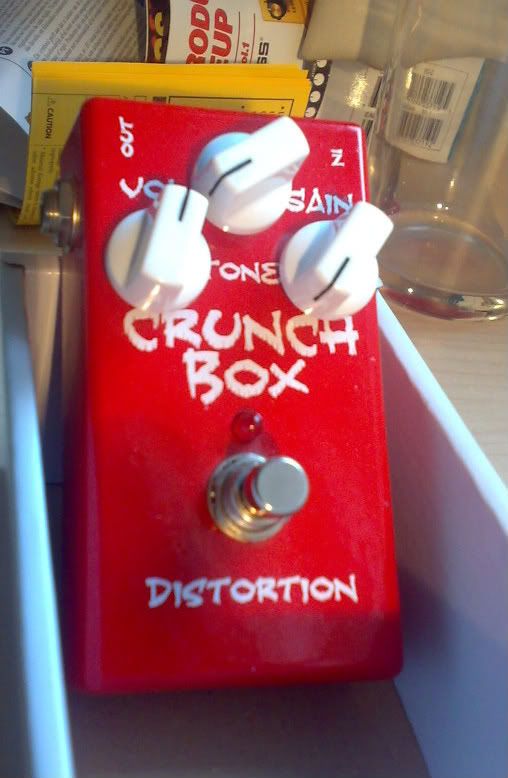 also, although i am not mentioned in the good trader list, if you look through the thread you will see that i have had about 3 or 4 successful dealings with people. If you are unsure then please feel free to PM me, or if you want i can retake the picture with it on top of a piece of paper with my username on. (i should have done this in the first place but i just used the picture i took of it a few weeks ago instead....)

sorry to double post, i didnt want to edit my first post as it says you shouldnt!!
oh really? i thought you could only get them from guitarguitar for £70 before postage.

well anyway, if you can get them for that then i suppose £60 including a patch cable and first class postage is quite good

Join date: May 2007
100

IQ
Oh I also just noticed you're selling a digitech bad monkey would you take 15 inc. postage for it?
I'd take it but not for that price man, no offence. I just happen to live next to a guitar guitar and they cost that much new.

Are you looking for anything as a trade?
entrant_21: £15 sounds fine to me, ill send you a PM shortly

Pott: guitarguitar sell them for £69.99 new (according to the website), so £60 with a great quality patch cable and first class postage is quite good, but i see where you are coming from if you live so close to guitarguitar. Make an offer of what you think is reasonable

let me know what you have for trade, im not really too fussed on a trade but if something interesting comes up then i may be swayed. Let me know of anything you have to offer

Mhmm I built a GGG Brown Sound in a box, I'd be willing to do a trade for that, maybe add some quid on the side. It's pretty well built no worries. Smoother sound than the CB basically.

Mhmm dunno what else I could get you...
Pott: Sounds like a good pedal but ive got my sound now so im not really looking for any more pedals (except a whammy but i cant afford one...)
I am customising my old strat copy at the moment, so if you have any parts or anything then let me know, if not then make a cash offer if you want

thanks for the brown sound offer though
entrant21: here are some pictures of the bad monkey: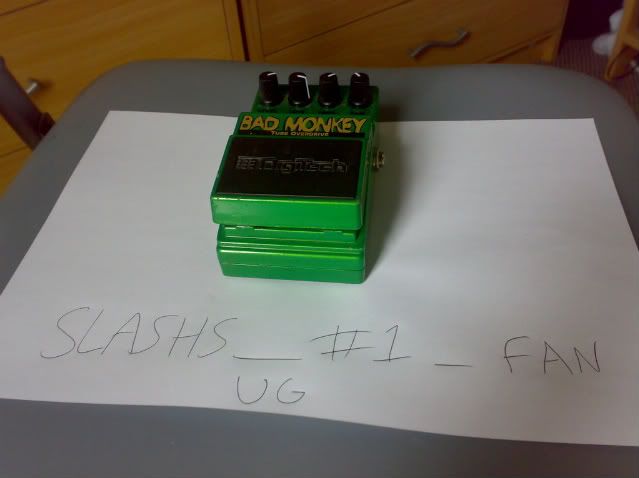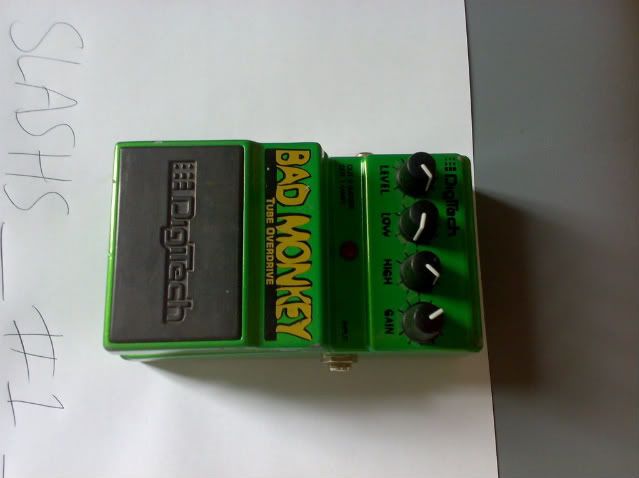 What parts would you be looking for? I have electronics (though no pickups) and spare pickguards, 1 highway 1 Strat pickguard (white, SSS)), one aftermarket strat pickguard (white, HSS) and 1 after market black strat pickguard (SSS) which still has its protecting plastic (worth 10 quid). Ask if you need to know anything about their condition.

I also have a very good Fender Gold cable, which is worth 20 quid and I never really used. Good cables are often the last thing people think off when improving their tones but it makes a big difference. It's about 3.5meters long I think? Also got two Klotz cables, a little shorter that I'm not using.
I was looking more for a new bridge (not FR) and a new neck and possibly a loaded pickguard. Thanks for the offer though.

Have you got cash? £55 delivered sound good?
Thanks man, it's a good offer, will have to say no for now. I'm still looking for other ODs like a barber or a subdecay stupid box.
I actually had a crunch box for about a year, had to sell it a year ago. Real good tones out of that little box!!

Good luck with the sale bro!
ah right, cheers pott

thanks for the trade offers too. anyone else interested at £55 then?
will pay £50 plus the crunch box for a 5w blackheart head, or will swap crunchbox and laney lc15r for orange tiny terror

or anything similar!...
final reduction - £50 inc. p+p!!!!!
added a recording to my profile of it. It is just my SG plugged into the crunchbox into my Laney LC15r - it was recorded at quiet volumes and doesnt do the pedal justice at all (when its properly singing it sounds a lot like this:
http://www.youtube.com/watch?v=zTdoq7FmLhQ
)
The amp is mic'ed up with a Shure PG57 and there is no post EQing- what you hear is what you get. The LC15r is running at bedroom levels on clean (the first 3 parts to the recording are me showing the bridge, both and then neck pickups on clean. forgive the bad playing, i had no idea what to play and most of it is itty bitty because im fiddling with the knobs to show you what the pedal can do

Will trade both the pedal and the amp for an orange tiny terror!!!

Join date: Dec 2004
80

IQ
If I had £50 lying around I'd buy that, the Crunchbox intrigues me.

Free bump, I suppose.
I have put this on ebay now. I dont wish to advertise, but so that people who have seen it on ebay and maybe then come here and seen one with the same picture (i used the same pic as here) my ebay ID is chill901, so the reason the pics are the same is that it is the same crunchbox for sale.

Thanks
hehe just saw that, it's a good auction. Good luck bro! I'm building one right now, can't wait to get the final parts. Hope you get what you want and don't miss it too much!
Cheers mate, I really appreciate it

I will probably miss it but im going to keep telling myself that the Tonelab gets really really close to it! I need the money to plough it into my recording/strat build fund!
I hope your build goes well