CAA OD100SE+ Clips
Just decided to make some clips of my relatively new amp. Signal chain is Fender Strat (dimarzio chopper/virtual vintage/virtual vintage) -> OD100SE+ -> Splawn 4x12 (emi gov/manowar) -> Audio Technica AT3035 condenser -> Presonus Firepod -> Reaper
Pretty rudimentary recordings but hopefully it gives you an idea of what the amp sounds like since there aren't too many clips of it. Volume is pretty low too.
Clean clip: Here my eq settings are pretty close to noon, I demonstrate different sounds I can get with the bright switch on and off and different pickup positions.
http://www.netmusicians.org/files/89-clean.mp3
Dirty clip: I think I started out with the gain at around 3 then it goes up to a bit over noon. Might have used a bit too much gain as I wasn't really paying too much attention. Bright switch is on. Feedback at 0, whomp on half, bass at 4, mids at 6, treble and pres at 0 or very low.
http://www.netmusicians.org/files/56-dirt.mp3
EVH clip: A quick EVH medley since a lot of you guys are into that. I play it 3 times, first time with treble and pres off, then at 1, finally at around 3.
http://www.netmusicians.org/files/29-evh.mp3
Here is a pic of the setup: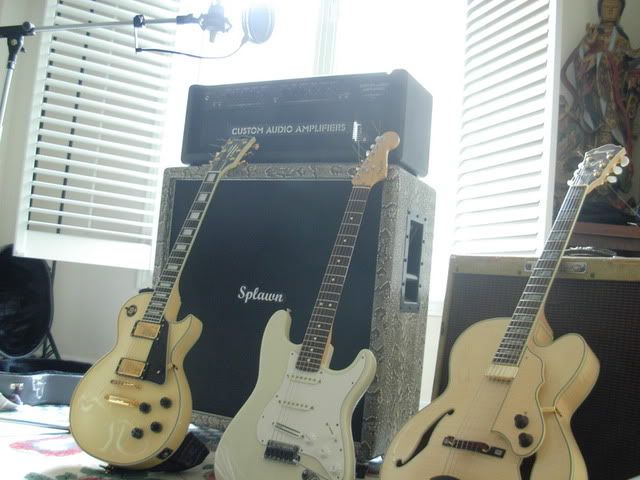 Oh yeah, I'll throw some clips up later with a boost, humbuckers, and some br00tals. It is a very versatile amp.
(i'm typing this while I listen)
that sounds badass, i have to say. I was especially impressed with the cleans- some really nice jazz playing there. and some really nice sparkly stuff too.
some nice eric johnson on the dirt clip. ah, and guthrie govan too! very nice.

some very nice van halen too. Pretty close in tone for it too.
Great playing by the way. Looking forward to the humbucker clips.


Join date: Mar 2007
410

IQ
How much did that run you?
How much did that run you?
Traded my Splawn Quickrod +$400 for it. Pretty sweet deal. Otherwise they're $3,295.00 new if you get it from their online dealer Synergy Guitars.
that sounds like a good deal. a quickrod is around $1800 new, isn't it?
nice clip too, santana is always cool.

sounds very nice man, great playing too. Do you miss the QR at all, or does it pretty easily cover what the QR could do? Is it the EL34 version with the upgraded tranny options? Thanks for posting clips man. KILLER deal you got on that sucker!

VERY nice playing, loved the clean noodling and the Europa track. I love that song, you nailed it. You have a fantastic amp, congratulations on your purchase, may it keep your tone quest at bay for a reasonable amount of time.


Join date: Jan 2005
355

IQ
What the "Whomp" do?
I tried one of these out yesterday, amazing cleans.