JazzMaster project
A couple months ago I started building a Fender Jazzmaster guitar. I purchased the unfinished body from Warmoth.com. I'd wanted a custom Jazzmaster for a while but never got around to doing anything about it. Until I saw this rear routed Jazzmaster with a nice flame maple top on it. I'd seen Jazzmasters with flame maple tops before, but they were always top routed wich meant that almost half of the flame maple was covered by a pickgaurd.
Once I had the guitar in my hands I had to pick a color. I'd seen something called a "Tigerseye" finish on another guitar and liked it a lot. It was dark orange with black stripes. I decided to do that but with a dark yellow instead of orange. I had no intentions of doing the dye job or the finish, but it was going to cost me over $400 to have that done so here I am doing it myself. I've never stained anything other than a dresser and that was with regular minwax stain. After researching it for a couple weeks I went out and bought some black and yellow powdered wood dye. 1/2 once was more than enough to do the whole body. If I had known how dramatic the finish was going to turn out I would have taken before and after pics.
To get the "tigerseye" look I had to dye the whole body black first. The end grain in the wood soaks up the dye faster. Then I sanded the whole body until only the end grain was black and everything else was close to the original wood color. Then I applied the yellow dye (took 6 coats to get the color I wanted). Now I'm in the process of putting a polyurethane finish on it. These next pics are of the body with the first coat of poly on it.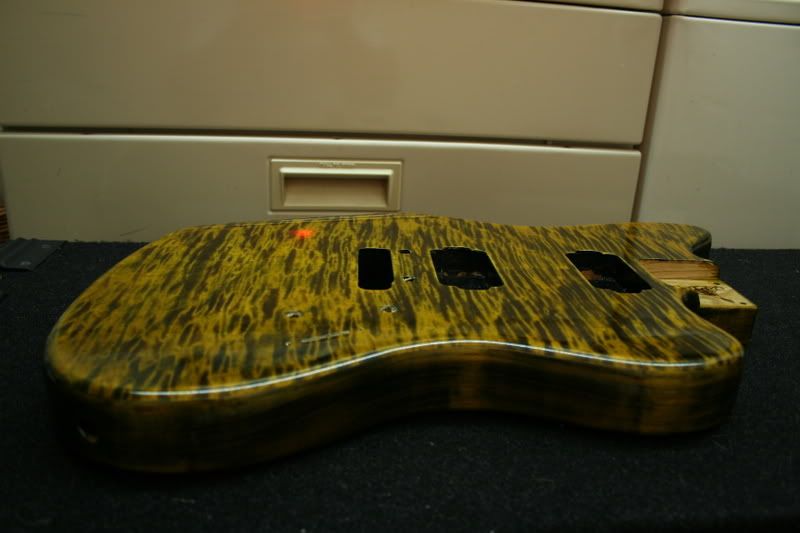 The back of the guitar is Swamp Ash, so there's not much figure to soak up the black dye. I like how it turned out though.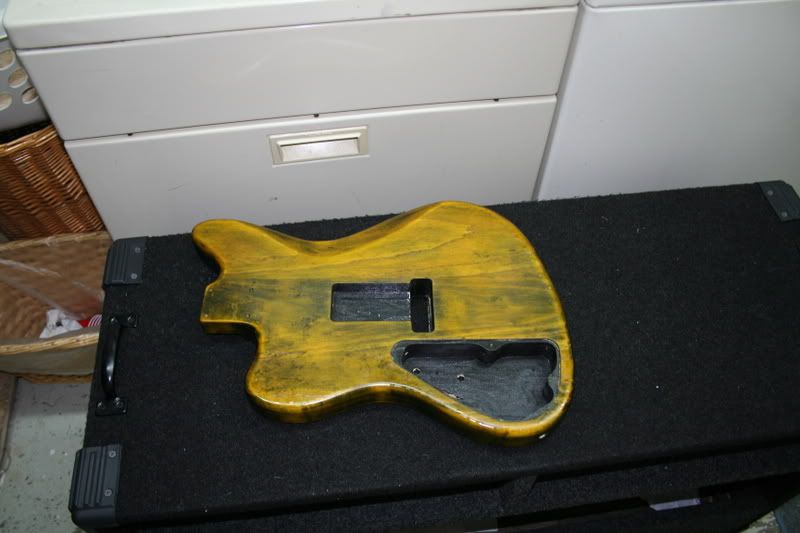 I can only post so many pics in each post, so I'll split them up.