Harpsichoid- things are starting to happen.
I've been following the advice of my music tech teachers and composition teacher, and I'm sending off demos to film producers. I've had replies from two people who are interested in me. Part of the demo is on my UG profile, if you're interested.
One is a small company, but I'm the lead composer for their next film. I have a contract to send to miami, and I'm going to have quite a lot of material in the film.
A film about drug abuse and self harm. Beautiful.
The other film company who are interested are actually quite a reasonable size, their next film has a name actor, and a recognised director. I've been given the chance to work with them in a future project. These could be my big break.

I'm releasing the extremely delayed album 'Six Billion Eyes' as soon as possible. It's starting to go a bit stale, and I need to get it out there now. Still with Tritech Records, of course.
I'm also looking for a bassist in the area to play live for a mini-tour I am planning for the release of the
next
album. (which is half finished, and it's bloody good

)
So, I think that's everything. Sh
it
's taking off, guys.

www.harpsichoid.co.uk
www.myspace.com/harpsichoid
Wow man. Congratulations. I've listened to a few things on your myspace, and I really dig them.

Join date: Jan 2007
60

IQ
I'll buy your record as a fellow UGer

I like your stuff.
And.. good luck

That's some awesome stuff you've got going on there dude, keep it up.
Got dates now.
The sweat OST (not the score) is going to be ready on the 1st of August. It has two songs by me on it, one of them is the theme.
http://www.start-sweating.com/merch.html
Six Billion Eyes is going to be released on the 2nd of August.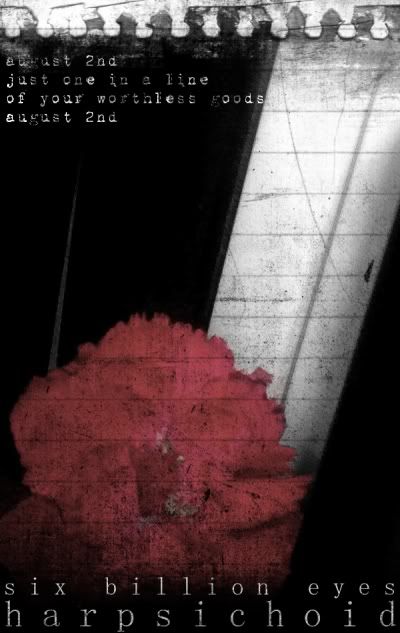 I'm thinking £6. It's 10 songs, 42 minutes long. It's going to be like last time- digital download by paypal. I'll post a link sooner to the time.

Join date: Mar 2006
80

IQ
Hey, I had added you on myspace on my regular account before because I really liked your tunes, but now I've got an artists page myself so I'm going to add you there.