My tuning thing is all wiggly.
So today I picked up my guitar today, plugged all the stuff in, and made a quick strum to make sure my it was close to being in tune.
But...
whooooaaaaaa
my high e string is
wayyyyyyyyyyyyyyyy
flat.
So I tighten it, and it breaks.
Damn.
Then I start playing it, and theres an annoying buzzy sound every time I strum a string kinda hard.
But then I wiggle the tuning peg and its really wiggly. Like a loose baby tooth a few days after you find out its loose.
So is this a bad thing? Can I just replace my strings and use the wiggly tuning peg? Or do I need a new tuning peg with the strings?
In case you don't understand, heres a picture showing which part of the peg is wiggly.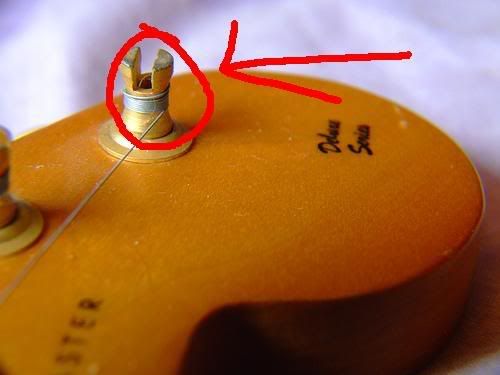 you will probably need a new tuning peg but I've actually never heard of this. I can't see how it will stay in tune being loose like that.
O yea I didn't think about it being in tune... thanks.
I'm gonna go buy a new one. Or a new set. Hmm.... which would work better?
i don't know.

what year is that Delux Strat of yours? Personally, I would take it in as i believe the peg is interconnected to the tuning machine and gear so it will probably be a whole replace.
Lol honestly, tighten the screw on the back of the tuning peg.
Lol honestly, tighten the screw on the back of the tuning peg.
ha...yep.
mine is on top but i don't have a delux obviously.