dunlop crybaby replacement parts
hey.

i know of somewhere i can get my hands on a dunlop cryababy for about £10, but i have a problem. It needs the mechanical parts replaced ie, the gears and such. the electronics are all ok, its just a mechanical problem.

question: anyone know where I can get hold of replacement parts in the UK? found some american stores that stock the parts so they do exist, but i cant find any in the UK.

Cheers, andy.

Edit:
bought the crybaby for £10.
also, i emailed dunlop and asked what the story was with replacement parts in the UK. turns out they have the best customer service ever. I got an email in return that said they would post me another part as soon as he got my address! now thats how to keep the customer happy.

Edit again:
Ok, it seems its slightly more busted than I originally expected. its currently acting like a volume pedal, not a wah. my research indicates this is usually a result of either one of the caps failing or the inductor failing. anyone got any ideas on what it might be?

I also suspect that someone has raped it for parts at some point. anyone able to provide a pic of the inside of a recent GCB-95? I need to compare the circuits.

i'll post some pics in a minute.
Last edited by AndyPandy at Jul 18, 2008,
ok, heres a pic of the board as it is just now. i'm a bit worried by the fact theres a space between the inductor and the power jack, but i cant figure out what that might be for. and yes, i've checked it against a schematic, but every schematic i look at is different from the last one.
can anyone upload a pic of their wahs circuit board?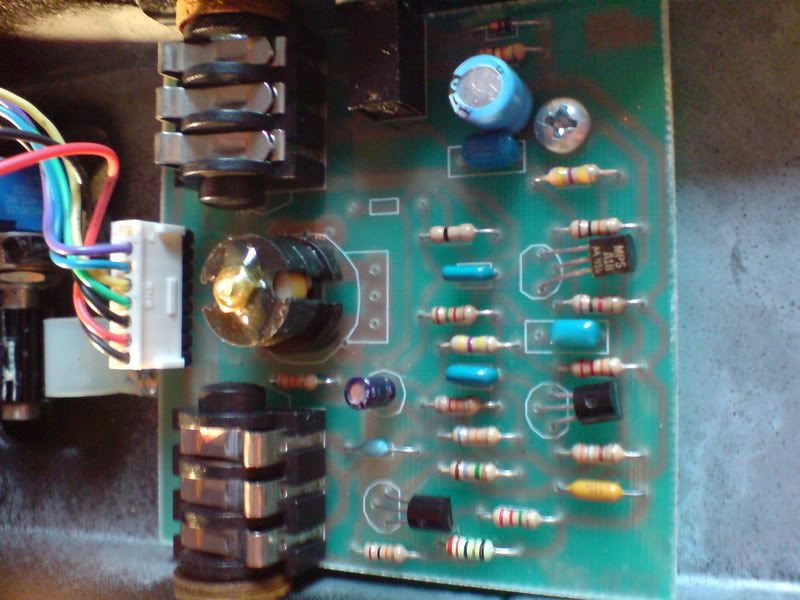 Works like a volume pedal? Sounds like the 4.7 uF electrolytic capacitor has failed. Replace it. Make sure the polarities are oriented the same way.
It's that blue cylindrical one there.

Don't see anything out of the ordinary. got the MPSA18 transistors in there, it's got the buffer circuit in there...

What's wrong with the mechanical parts?
nothing major is wrong. the rack gear was missing, but i've got a new one on the way direct from dunlop for free. and the switch is a bit dodgy, so i'll replace that and make it true bypass once i get it all working.

how can i test the cap? is it just a visual check for leaking electrolyte and such? its been a while since i did physics!

edit: scratch that, i dopped in a new 4.7uF cap, and it works!
Last edited by AndyPandy at Jul 18, 2008,
Sweet. Any other problems?
If you want directions on how to make it true bypass, Google Wah mods.
The first link should be good. I believe yours is a Rev E or Rev F or G PCB. It should say on your PCB.
In any case, that page shows to how to make your wah true bypass, and how to remove that lame buffer circuit.

yeah, i'm gonna do that once i can get myself a switch. all mine are currently in use in other projects.

Mine is a G PCB, so I'll get that mod done ASAP. might even do a step by step guide if i get time/remember.

i'm gonna add a power switch too, so i dont have to keep unplugging it all the time! did to my ProCo Rat too and it was dead easy and much better on battery life.
Last edited by AndyPandy at Jul 18, 2008,
Ah, I'd be more inclined to either add a 9v jack for an adapter, or use a snap-on coverter so it have a 9v jack. I'm a bigger fan of using adapters, anyway.
i've got an endless supply of 9v batteries, so i'll never run out. ever.

i dont gig and seeing as i dont use many pedals, its not a problem to keep them powered by battery
Fair enough.

Post in here if you need any more help or anything.
BTW, there's a wah modding thread in the GBC forum you may find interesting.