Pickup wring help
I just bought a new pickup for my guitar and I need some help with the wiring as it didn't come with a diagram or anything.
It's a wilkinson humbucker..
There is 5 wires - yellow, red, white, black and a bare one.
The red and white are soldered together as are the black and the bare one..
My guess is that the black/bare is ground and red/white is for coil-taping maybe??
Can anyone confirm this?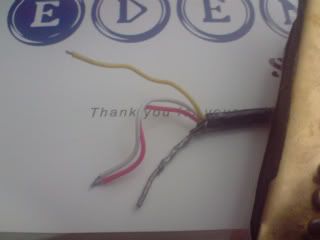 I that black is hot, Red/White for tapping, yellow (supposed to be green?) and bare for ground.

I've sold the guitar that had wilkinsons in - but I think that was the way it was.
That's what I thouht before I got the pickup.
I found a review for Wilkinson PAF humbuckers (this is an open coil style, model: MWHB) on Harmony Central that said the same, but the black and bare are braided and soldered together which is why I'm a little confused..
try bare and black to ground, yellow as hot and tape the end of the white and red.
Sorry - totally missed that they were soldered - I go with the way they are then!
Ok, thanks guys - I'll try that then.

This is my first time changing a pickup, and this maybe a stupid question, but if I wire it up wrong it's not going to short out the guitar or anything right?? It just won't work??
you just wont hear anything. can't imagine how you can short circuit a guitar which has no power going through it.
Thanks.. I didn't think so, but better safe than sorry right


Join date: Jan 2005
345

IQ
If this is a guitar with more than 1 pickup, try it the way it's oriented now. If the between position of this pickup and another sounds thin or nasal, then black should be hot and yellow should be ground.