[UK] Apple Mac w/many Accessories + Recording gear For Sale [UK]
Hey Guys,
Reluctantly up for sale today is my beautiful G3 800mhz iBook. This small, but surprisingly fast laptop is just the tool for those who want a cheap laptop for Graphic Design or Music production. I have used it for both, and will include a stack of graphic design and music software and hardware to get you started. (I will also include backup discs). Contact me for the list of software, as its way too long to post in here.
Specifications:
G3 800mhz processor (equivalent to roughly 2hgz Intel)
Upgraded 640mb of ram
Airport Card for wireless connectivity (cost £70 on eBay)
Combo drive (CD/RW + DVD)
40gb Hard Drive
Running 10.3.9 (Would run Tiger/Leopard with no problems whatsoever)
Accessories
Hercules USB interface for recording (doubles up as a stylish volume control!)
Sennheiser HD437 headphones
Two
chargers - which is really helpful
All the install discs
Here are some pictures (I hope you have a spare pair of pants...)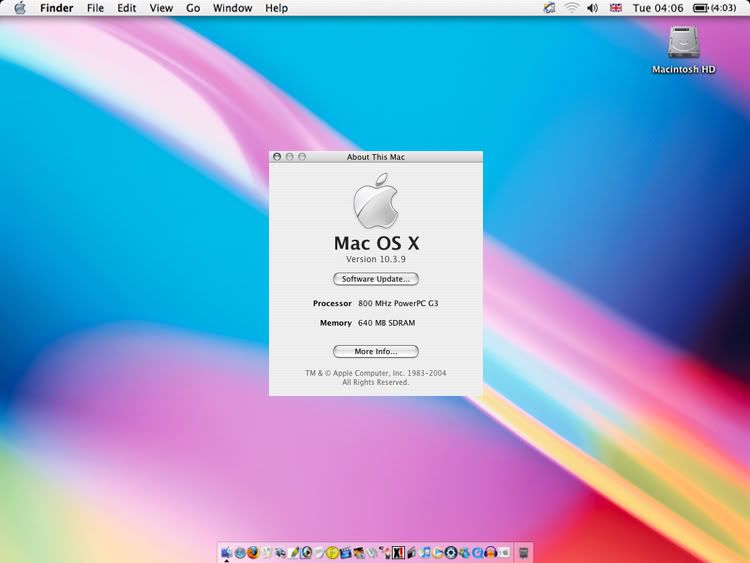 Taking into account all of the Accessories and Software that I have included (worth £600+ alone), I'm asking a very reasonable £240 + postage. Slower models regularly go for £200 on eBay without any hardware/software, so this is an awesome deal.
Fostex VF16 Multitrack Recorder
Also for sale is this Fostex 16 track recorder. It has seen very little use, as i bought it for my 2nd year final college project.
This multitrack recorder is capable of very professional recordings. You can easily transfer your recordings onto your PC or Mac with the included external Hard Drive.
Features include:
XLR Inputs with Phantom power
8 tracks simultaneous recording
FX's (Including various Reverbs, Delays and Chorus')
80gb Internal Hard Drive - You wont need to worry about space!
9gb External Hard Drive to export your individual tracks for further editing/mixing.
I'm only asking £150 (+ Postage & Packaging), or £185 with an SM57.
Marshall Jackhammer
Again, this was literally never used, as I use my homemade distortion pedal exclusively. Despite being a "Heavy Metal" Distortion pedal, I found I could get an extremely juicy Over Drive out of it. Think Hendrix, John Mayer and the like. Like everything I'm selling, it's in perfect condition including the Box and Instructions.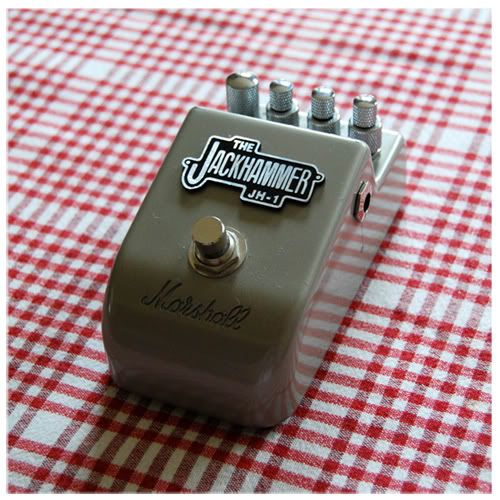 I'm asking £20, Including Postage and Packaging.
Any questions, just email me at
9pm@live.co.uk
, or alternatively just PM me. Payment by Paypal or Cheques is preferred. UK/EU only please, as it just gets complicated otherwise.
I've done countless sales on here, including Amps, Guitars and Fx pedals, and I'm on the good trader list. I have also got 100% feedback on eBay. I pack the items I post in about a tonne of bubble wrap and then some, so I can guarantee that your item will arrive on time, and in perfect condition.
Cheers, Joe.
P.S sorry for the big pics!

Join date: Feb 2006
224

IQ
Will you sell the SM57 on its own?
Blue_Strat, I would prefer to keep the VF16 & SM57 together - but if someone was to buy the Fostex, and not the SM57, you're welcome to have it. However, i will sleep on it, as i may change my mind.

100%guitarmad Don't we all?!
Im also interested in the SM57!
Like i said to Blue_Strat, i will have a sleep on it, and get back to you guys asap.

And wasn't it you who wanted it last time?!
Dayum if i knew these were going before i ordered my valveking i would have had that laptop =(
Bump


Join date: Jul 2006
30

IQ
Will you post all the way to us aussies down here
i'll happily pay the postage as a tribute to your queen....or something
I will consider posting to AUS. But it will be at your own risk - as it's a hella long way for something to get shipped. You would have to pay me in £'s though (I don't know if thats a problem or not?)
Sorry for the double post!

Just because I'm not sure if that PM worked or not, I'm definitely interested in the iBook and the recording desk.

Thanks,

Yikes.
man that Apple looks sweet. but I'm not in the UK and I have nothing you want =[
Yikes, did you get my PM? I gave you qoutes on the shipping costs for both.

Join date: Nov 2006
20

IQ
I'm very interested, and I have the money avaliable actually, before I take any action though, could you tell me if I bought it could the RAM be upgraded even further, to say 1 or 2 gig? Is there enough room for that?. Oh and what's the battery life like typically?

Cheers
Yikes, did you get my PM? I gave you qoutes on the shipping costs for both.
Haven't received your PM, I'll PM you my email adress though, and you could send me the quotes that way?
Still very interested.
Thanks,
Yikes.
Matt_Synyster:
There are two slots left for you to add more RAM (if you really need it - for me its been perfectly fine for both music and graphic design). And im pretty sure it supports upto a gig or two of ram, as long as the ones you add are the same size.
The screen shot i provided also shows the battery life too, which is just over 4 hours (as the battery is brand new), which is really useful.
Hopefully that clears it all up

Yikes, I've replied to your PM
Matt_Synyster: if you're still interested - the mac is back up for sale.
Will you post all the way to us aussies down here
i'll happily pay the postage as a tribute to your queen....or something

She's your queen to ya know!

Join date: Jun 2008
36

IQ

Join date: Jul 2004
270

IQ
that jackhammer still available? £15 delivered?
I'm interested in the Jackhammer. Will pay 20.

Join date: Jul 2004
270

IQ
I'm interested in the Jackhammer. Will pay 20.
ahh well....
id email the address in the first post mate, i got no response from the thread

Sorry guys, totally forgot about this thread! I assumed it died after a month or so.

Im actually on holiday at the moment (just found a cafe with free internet), so il bump this thread and answer questions when i get back in a few days or so.

Cheers, Joe

Join date: Sep 2006
30

IQ
If this was on here a month ago i would have snapped that up. Typical i've wanted a mac a while but couldn't really afford it, now i find one cheap enough and i don't have any money.