Intonation help
I couldn't find my other thread... Sorry.
I have a washburn WI14 guitar(
http://www.pulseonline.com/washburn/bigWi14MBL.jpg
)
Okay, so whenever I turn the screws at the bridge which are supposed to move the saddles the saddles don't move, preventing me from fixing the intonation. How do I fix this problem?

Join date: Jul 2004
20

IQ
detune your guitar a couple of steps, and make sure the saddles aren't at the end of the screw either way.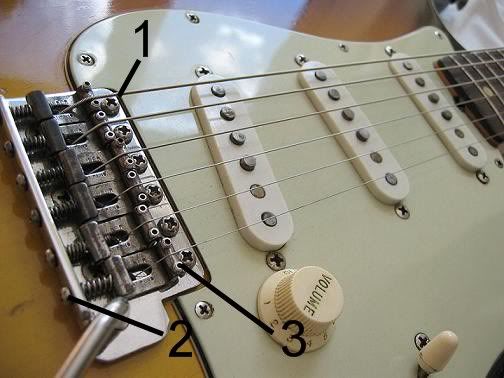 you turning # 2?
To Thorazine: If I detune my guitar won't that make it difficult to set the intonation?

To JJ: Yes, I'm turning number 2
ok heres what i know idk if it will help but here goes, the string should hit the same pitch open and when you do a 12th fret natral harmonic when the intonation is right

hope that helps and when you change your string sizes i herd you have to set it again but idk if thats true cuz i always use the same type of strings
you want to make sure that the saddle isnt stuck.
so detuning and moving the saddle a bit isnt a problem.

but to intonate, you need to tune up then check at the 12th fret, then adjust the saddle, then tune up the open string again.
and so on.
ok thanks, I'll try all this stuff and report back to this thread tomorrow.
SETTING INTONATION: from icepoint...
Most electric guitars provide individual string length adjustment for setting intonation. Fine tuning this length insures that your guitar plays in tune all the way up and down the neck.

Using an electronic tuner, tune your guitar to pitch.
One string at a time, play the harmonic at the 12th fret and then play the fretted 12th fret note.
If the fretted note is sharper than the harmonic, increase the string length slightly until both notes register the same on your tuner.
If the fretted note is flat compared to the harmonic shorten the string length slightly until both notes register the same on your tuner.
Repeat the procedure on all strings until the harmonic and the fretted notes are the same.


make sure you tune up the open string note after every saddle adjustment.
and if you cant manage to compare the fretted 12th and the harmonic, then compare the opne string note to the fretted 12th.