CROTM: Eric Clapton (early days)
CROTM: Eric Clapton
NOTICE: This rig will only cover Clapton in his early years. It will cover his time with the Yardbirds to Cream.
Unlike previous rigs, I will instead cover his setup band by band. Since this covers Clapton's gear between the bands, it's easier for me to do it this way. Also, some of the pieces of gear have more info than others, depending on his use of them.
The Yardbirds
To start with, little is known of Eric's Yardbirds rig. He hasn't spoken a lot of it and back then he was still experimenting very much. Also a lot of the gear hasn't been used since and it's debatable how much belonged to him. Hence it's very short.
GuitarsFender Telecaster
Not very much is known about Eric's Telecasters. He has appeared with many different ones of them. There isn't too much to say about it.
He also bought his ES335 during this period, but I will speak about it later, because it saw very limited use in The Yardbirds.
Amps
Vox AC30s:
Like many of the British Invasion bands, the Yardbirds used AC30s, which was very popular back then. Same as with the Teles, there aren't much known about these amps. They appear to be regular 2x12 AC30s. It's also debatable whenever these belonged to Eric or not, considering they have seen no use since.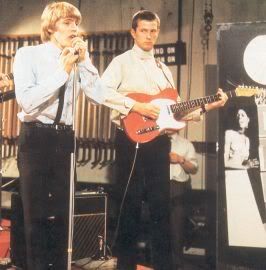 The Yardbirds setup.
John Mayall & The Bluesbreakers
In April 1965 Eric joined the Bluesbreakers. He followed a friend of him to Greece in August that year, but was "kidnapped" by a local band. He later rejoined Mayall's band in November that year and stayed there until the formation of Cream. He now got a new rig, very different from his Yardbirds one. He then recorded the "Beano" album, a pinnacle in rock guitar tone.
Guitars1960 Gibson Les Paul
Clapton was a big fan of Freddy King and after seeing the cover to Let's Hide Away And Dance Away he went and bought one. He bought it used sometime in 1965, in almost brand new condition. Eric used this guitar for the whole of the Beano album. Eric loved and said it was "The 'best' Les Paul I ever had". Eric also replaced the tuners with Grovers sometime close to the recording of the album. This guitar was sadly stolen sometime around the early Cream rehearsals in June 1966 and Eric still misses it to this day.
The year of the guitar has been debated as being either a 1959 or 1960. While maybe a bit hard to spot, the guitar does definetly have a flame top, ruling out a '58. The guitar did have two PAFs, the bridge being black and the neck being a white colored. This also rules out a '58, because as we know, no '58s had white PAFs. However the knobs seems to be the tall reflector types, which would indicate a 1960 one. However the biggest answer comes from Fleetwood Mac guitarist Peter Green. When speaking about his first Les Paul in an interview with Guitarist magazine Green told that about his Les Paul:
" It was very different from Eric's, which was slim: very fast action"
All the Gibsons from 1960 had the slim, fast-action neck, unlike the big ones of the 1959s. This clue clearly indicates that it was a 1960 model. Since it was stolen, we aren't sure.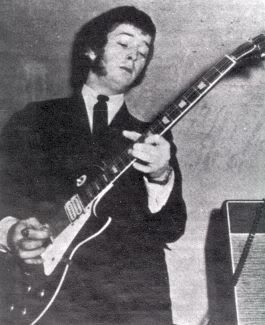 Note the white neck pickup. Also you can see parts of his Bluesberaker on his right side.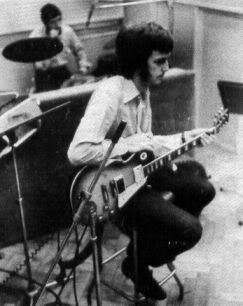 Here you can see the black bridge pickup.
AmpsEarly JTM45s
Clapton has been seen using various early JTM45 half stacks. One of the pictures is seen down here. However he said to Jim Marshall he needed an amp that would fit in the boot (trunk) of his car. This made Jim doing a combo of the successful JTM45 head. This became the Series I combo. Clapton had one of these during the first Mayall era. However when he was kidnapped in Greece (a local band's manager locked up his amp so he wouldn't leave) Clapton had to leave this combo behind.
Notice the stack in the background.
Marshall 1962 Series II combo
The famous Bluesbreaker amp. This is what Clapton used during his second era with the Bluesbreakers and the Beano recording. He also used it on the early Cream rehearsals. The amp was a 1966 Series II combo. It had a GZ34 rectifier tube and the new Marshall "script logo". It also had 3xECC83 tubes and 2xKT66 power tubes. It was a 2x12 combo and the speakers were either late G12 Alnicos, G12-20s or early G12-25s. The G12 Alnicos were being replaced by much more efficient ceramic ones. The G12-20s are the old 20W Greenback, designated G12M for medium sized magnet. The G12-25 or G12H was rated at 25W and a heavy magnet version of the G12.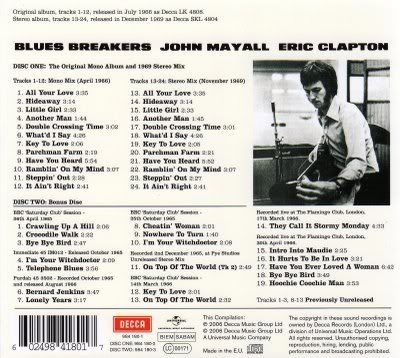 You can see it in the back.
Modern reissue of the model.
Last edited by Gabel at Jul 20, 2008,