fender mim p-bass
well, i dont have pix yet but its the turquoise-ish color, it has an upgraded seymour duncan pb3 bassline spb3 pickup. its in pretty good condition in terms of nicks/dings/chips but most of the screws are a little rusty. ive only used it twice, but i got it used.

ill do my best to have pix by tonite but i have work and cant find my camera so if u have any interest, let me know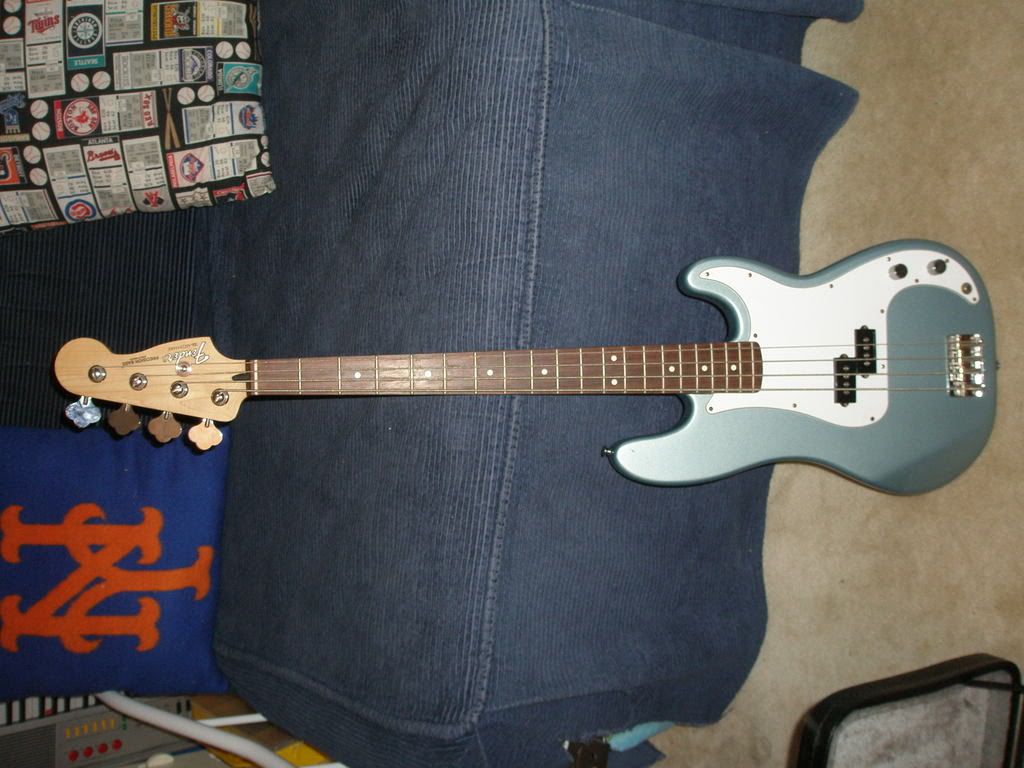 here are the largest nicks on the bass, only real damage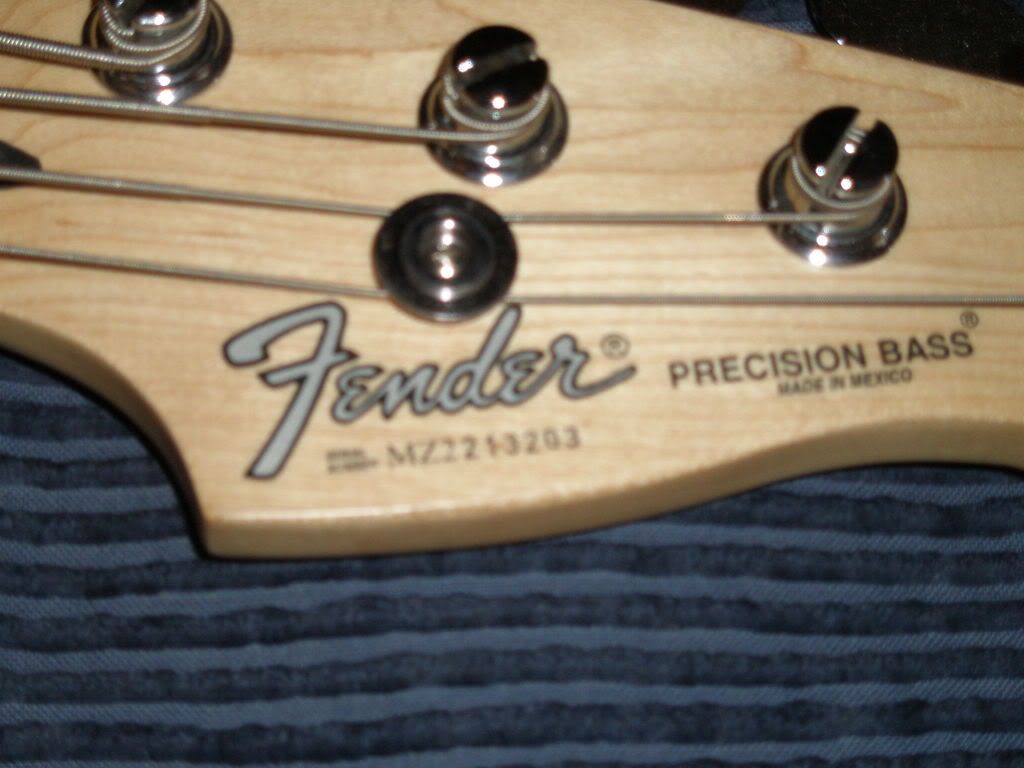 there is no belt rash on the back, no issues, only noticeable cracks/nicks/dings are shown, the largest of the 2 is about the width of a pen (8 mm?) and not deep at all
like i said, there is rust on most of the screws
oh my bad, im thinking like 285 + shipping, price is negotiable
trades accepted too, mainly a solid backup axe w/ 2 'buckers or a decent mid range bass (4 or 5 strings)
Join date: Nov 2006
80

IQ
Interested in a OLP MM3?
i will think about it, but im gonna wait to see any other offers.

but damn thats a nice bass

Join date: Apr 2007
40

IQ
seizetheday, you had some interest in my Stiletto, senor_penguin, you wanted the Fender, and I want that OLP. It's doubtful you'll both agree to this but what if we did a circle kinda thing? I have two good references on UG for the record, seizetheday, I think you have at least one. It's just a thought, let me know what ya'll think.

Or one of us could suck up paying double shipping and say I trade my Stiletto for the Fender and then trade the Fender to senor_penguin for the OLP.

Join date: Apr 2007
40

IQ
Nevermind on that idea I pitched, after reading the reviews on that MM3, I'm definately going to have to pass.
****!!!!!! i was thinking that i could work a 3 way deal, and that wouldve been perfect.

well, thanks for the input dude
and i love the name, i met them on teusday
on reserve for guitarlord44

if it falls through ill let every1 know

Join date: Jan 2008
30

IQ
Would you be interested in an Ibanez sz520qm?
Would you be interested in an Ibanez sz520qm?
pix?
hey, i searched that guitar, i have to say thanks, but no thanks. ive played it, not a big fan

thanks for showing interest
you know what, i take that back. give me a couple of days to think that over b/c they have that at my local shop so i can play it whenever. post pix anyway

thanks again, sorry for my indecision

Join date: Jan 2008
30

IQ
Ill also have to take a few days for decision/pics,but only a few days so just let me know when you decide.
pm'd. its much easier imo
on hold, pending deal w/ krist333111330
bump, i wanna get this thing gone, its just sitting in a case
I am really interested man!

LMK If you really want to trade!

Thanks
BUMP!!!

i want this thing gone. im in pittsburg til tuesday night, if i dont have a solid offer by WENESDAY night, i think its goin on craigslist
I'm tempted...
did you buy it with the pup already replaced?

I'd be interested in just the pickup if you're good with electronics and could swap it with the original without much trouble..

if not, then I'll have to pass on the bass..
too many expenses with school and whatnot atm..
no, i got the bass w/ the p-up installed and dont have the original, sorry
bump... i want it gone, it just sits around untouched. if anybody wants to buy it straight up, fine, if you have a decent guitar, offer it.
well, i was hoping to get another instrument out of this, but seeing as how i couldnt finalize anything, im putting it on craigslist now, if anybody has any offers, do it and ill remove the ad

thanks ppl \m/
bump... no luck on craigslist either. **** people who dont like basses

Join date: Oct 2007
320

IQ
hey, so jw, where are you? and do you have an official price you want for this??
im on long island, nassau county. and im thinking around the 300 range is quite fair
bump... is this bass like...diseased or something, ive gotten 0 offers on craigslist
btw, i hope this doesnt count as a bump, but id prefer to sell it now as opposed to trades.

the only way id accept a trade if it was way too good to pass up

thanks
bump, technically the 1st of the week, come on people, i would think this is a good deal-


250+shipping thats 200$ off of the new price and thats not including the seymour duncan pickup

Join date: Mar 2008
30

IQ