How do I fix this?
I noticed to today that my guitar is making this really loud and abnoxious noise that covers all notes on the guitar. If I adjust my guitar enough, it will stop but if I move it from that postistion. Could someone help me on this?
What do you mean when you say "I adjust my guitar enough?"

What exactly do you adjust?

Join date: May 2007
80

IQ
Umm, more specific? Really obnoxious noise doesnt quite help me...

I mean adjust as in where my guitar is sitting on my lap and moving the jack plug and all around on my lap. And by "Really abnoxious noise" like putting your guitar to an active TV and having your amp on 10. Or like really strong feedback that overcomes all notes.

Join date: Mar 2008
10

IQ
if you mean move the guitar around till it stops, then that is a dead cable. get a new one. it's happened to me before.
What kind of guitar do you have?

Where is the amp and where are you playing in regards to things like TVs, microwaves, and other electrical devices in your room?

Have you tried other amps, other guitars, other cables and still experience the same issue?

Join date: Oct 2007
430

IQ
Does the pin move around in the jack? if so, there's your problem. It happened to me before.
Yamaha Pacfica 012 =(. The only thing in my room is a TV that does not influence my guitar. I dont think it's the cable because I adjusted my jack (as in moving the plate on the jack while it is unscrewed and trying to figure out what happend) once and it fixed. But then it screwed up again.
What exactly did you do to the jack?
It could be a loose solder point on the jack, or the metal "arm" that holds the cable in place might need to be adjusted.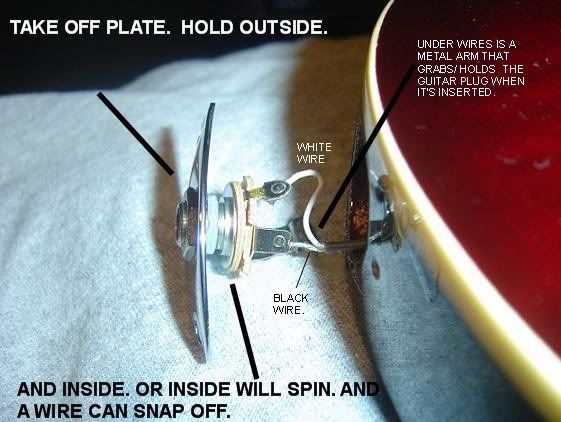 Alright thanks for the help. I'll try that and if that doesnt work I'll get a new cable.