FT: Schecter Stiletto Elite-4
Up for grabs is my Schecter Stiletto Elite-4. (It's bass, for those who aren't familiar.) Basically I'm looking for any decent 5 string of similar value. (I saw an OLP that REALLY caught my eye the other day.) I'll be in jazz band this year in school and I could really use that 5th string (since that's what it was orignally used for anyways.)

IMG]http://i148.photobucket.com/albums/s35/atreyurock9/guitarbass.jpg

That's the only picture I have of it at the moment but if there's any interest, I can take more. Just ask.

I would not be interested in an outright sale unless it's a really good deal. I'd rather not lose money on this and then have to go scrambling to pawn shops trying to get what I'm looking for before August 21st when school starts. I also would prefer to not be without a bass for a month.
Sorry. Missed a bracket on the IMG tag.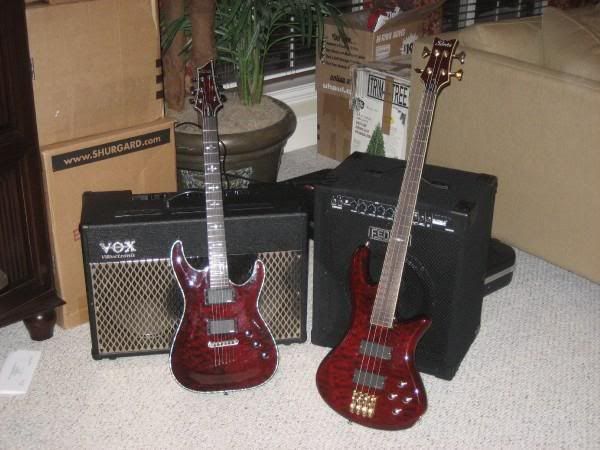 That should work.

Join date: Aug 2007
130

IQ
o **** i wish the fender i was selling was 5 string, thats GORGEOUS!
Up. Don't be afraid to post ANY offer, the worst I can say is no. If anyone wants to buy this outright, I'll sell it for about... $475 plus shipping?
Come on, someone take this bass, I need a 5-string!!
Last bump for a few days. Someone take it!!
I got a dean 5 string I could trade
Its black Very nice really heavy makes a great deep sound, If you want
pic hold on I will get one
Thanks for the offer but it doesn't really grab me so I'll have to pass. I'm really kind of wanting something in a natural finish, like a Laguna Ocean TB75 or an LTD.
Darkice, what model is that? I'm considering it but I need to do some research on it.
Um Its a Dean 98 Bass thats what it says On the neck, I would understand you not wanting to trade I mean Mines not as pretty as yours But it is a five string
To tell you the truth I'm in no rush or need to get rid of it, To me its sexy I love a black guitar and It plays well got some room for slap tech. and is just really nice, But I really like the body on yours and I don't much need 5 strings I'm still sort of a rough at the bass so I just think a 4 string might be easyer to play on so this is really the only reason I'm even offering so no pressure mate.
I think I'll pass, but thanks. I just can't seem to excited about that bass, even though it's a 5-string, which I really want.

Just to give people idea of what I want: I really like the LTD B-5E (and it retails for $540-ish new and mine's $650 new but I'd do a straight trade for it anyways) and the Ocean TB75 (I think this is the model #) in the natural finish.
Hey Its cool I wasn't to sure If I wanted to trade anyway plus my girlfriend yelled at me when I told her On the phone that I might be trading it lol

so dont worry I hope you get what your looking for.

and if you ever do want to trade for what ever reason just let me know, okay man chill have a free bump and good luck
Still nothing? I did mention I'll sell it outright, correct?
im looking to get a bass like this i was looking at the schecter custom-4.... i was wondering is the price negotiable
It's negotiable to an extent, just depends on what you're willing to offer. I don't know if you'll go for this but you have EXACTLY the bass I want. I'm in love with the Ocean 5 stringers. Could I work any kind of trade out of you for that?
its brand new.. like 2 days old i played it once so its pretty much like buying it from guitar center (im not gonna lose money cuz you think its used cuz ive had it for 2 days)... i might be returning it, i bought it new from guitar center... so i would want like 350$ and the schecter for my laguna... so... idk if you would be able to pay the extra to get the deal done
its brand new.. like 2 days old i played it once so its pretty much like buying it from guitar center (im not gonna lose money cuz you think its used cuz ive had it for 2 days)... i might be returning it, i bought it new from guitar center... so i would want like 450$ and the schecter for my laguna... so... idk if you would be able to pay the extra to get the deal done... im pretty firm on that cuz if you dont take mine you might not be able to find another laguna (they discontinued my bass)
its brand new.. like 2 days old i played it once so its pretty much like buying it from guitar center (im not gonna lose money cuz you think its used cuz ive had it for 2 days)... i might be returning it, i bought it new from guitar center... so i would want like 350$ and the schecter for my laguna... so... idk if you would be able to pay the extra to get the deal done
350 was a miss type that is why i posted it again i would like 450$ (firm but negotiable)
They still make an Ocean 5-string, just not by Laguna. I think it's like $800. And I have a Fender Rumble 60, I'm trying to upgrade that as well. You asked about my price, what would you be willing to pay just for the Schecter? I couldn't do $450 for the Laguna. I could probably do about $250. MAYBE $350 in like a week, it just depends on how much I get in tips. My check will probably be about $200. (I'm a waiter by the way.)
400$ would be the cheapest i would be able to go because i want to get tthe gk backline 210... i have 30 days until i have to make a deal or decide if i want to keep it... i most likely will return it cuz i want the gk backline and like a 300$ ibanez or something... so just keep me posted...
(and you realize i want 400$+the schecter for my laguna 5 string
i would rather do the trade... you give me 400$ and the schecter for my laguna... i can wait for 20 days but then i have to make a decision, i would do this deal if you could make 400$ dollars by then... how would the deal work?? how do we send the money and the guitars
You want exactly the same amp I do. Ha. But anyways. $400+my Schecter is just too much for me. I want the Ocean 5-string but there's one used at a Guitar Center here for $550 or something like that and I was hoping to get more than what GC will give me for my Schecter, which would be about $325. It'd very possibly be more than 20 days before I could save up $400 with the fact that I have to buy gas every 10 days which is about $70 to fill up and I don't make all that much as a waiter at Steak 'n Shake.

With the fact that I have two good references as a trader on here (one being fuzzyDXMG and I can look the other one up if needed, I'm on the list of good traders on here), and you having none (at least, you aren't on the list of good traders), I'd want you to ship first or at least at the same time as I send my Schecter and give me a tracking number, as soon as I can track it, I'd send the money... But I'm almost positive I can't work up $400 in 20 days so all of that may have been pointless to type anyways.
ummm... i might be able to sell for 375$ i got to talk to my parents about this... i would be fine shipping first... and ive never traded b4 that y i dont have a rep. Would you be able to send the money you make in the 20 days and send the rest when you make it (i am trusting you). just keep me posted with your status with the money factor in this deal... i will see how much i can get a backline for... because if i get rid off the laguna(which is worth way more than im bought it for) i would wanna get the backline... keep me posted... y dont we pm so we dont have to find the thread everytime
i havent been getting pm's for some reason... so just keep posting on this thread and re-post the pm on this thread
Did you get the pm I just sent you? I'll send both of them to you in this thread, just in case you didn't.
Here's the first pm I sent you:
If you will trust me to send you what I make in the 20 days, and then send the rest of it ASAP, I'll do the trade. You ship first, send me a tracking number, and the day it gets here or the day after, I will send out my Schecter. I'll even go buy you a nice bass case from Guitar Center to ship it in (that will have to come out of what I owe you). If you have a case for the Laguna and want to ship it in that, I can send the Schecter back to you in that case but as of right now, I do not have a case for my Schecter. I have about $200 right now, in the next two and a half weeks or so, I should have at least $100 more if all goes well and normal at work.

Of course, I need to see some pics of the bass before I make a final comittment, but if you'll agree to all of this, I'm 99.9% sure I'll do this trade as long as the bass isn't dented up and the pickups work and everything, which shouldn't be an issue considering you bought it like less than a week ago.

Let me know what you think.

And the second:
I really doubt I'll have it in a week but I'll send everything I've got in a week (I'll send it with my Schecter in an envelope in the case) and send the rest of it as soon as I have it.

Do we have a trade? If so, I need to send you shipping info and I'll use the return address on your bass to send my Schecter to you.
ya i here is a link to my picks... idk if we have a deal... im just letting u kno but i broke the 3rd string a couple days ago... i brought it to a shop and they put on a new string and tuned it... but the new string is slightly different (red instead of black where it gets tied to the pegs)... but you would just have to get a new string... i have a case for my laguna i will ship it out in the case... if we have deal, but i'd want you to send your bass as soon as you get can track it with the tracking # i give you,

i will take pics of everything...

so can you see if you can find the same case as i have and then send me your bass in that and i will keep the case that comes with the schecter and you get to keep the case that the laguna is in... only if it is the same case though... and you would buy the one that you ship your schecter and i would keep it and you could have mine... mine is brand new...

would you want my acoustic b100 amp to?? i'll give it to you for 250$ cuz thats how much i bought it for...

i need to find you bass in a store and make sure i like its active right??? is there anything wrong with your basses electronics or cosmetically... take pics of cosmetic damage and tell me everything you've had a problem with on your bass

and do you agree to the price of 400$ considering you have as much time as needed, and the schecter for my laguna

send me pics in this thread cuz pm's arent working for me... thanks

i dont know if this will work but... ill give it a try

my bass and amp
Attached Images
File Type: jpg 100_0613 web.jpg (47.7 KB, 75 views)
File Type: jpg 100_0614 web.jpg (45.5 KB, 38 views)
File Type: jpg 100_0619 web.jpg (43.0 KB, 36 views)
File Type: jpg 100_0621 web.jpg (43.3 KB, 41 views)
__________________
Actually, that is EXACTLY the case I would have bought, so that works out perfectly. I was afraid you were going to make me pay like $150 for the best case made. Lol.

I can agree to ship the bass as soon as I have a tracking number but I will wait until the bass gets here to send any money. I think that's fair considering your lack of references and that I have two very smooth trades on UG.

I've never had any problems with my bass. It has always worked flawlessly for me. I just want a 5-string for my jazz and metal stuff. And, unless you consider some fingerprints a cosmetic issue (which I would of course clean off as well as I could before shipping), there's nothing wrong with it that I have found. I'm very cautious with my instruments-probably more than I need to be.

The bass has passive pickups with an active preamp. It does basically the same thing. The preamp boosts the signal from your pickups to your amp. The tone is beautiful and you can slap and pop very well.

Didn't you say $375 like two messages ago? I think we should go with that, especially considering I have to buy strings and bass strings aren't cheap. I have about $240 right now but it's going to cost me like $70 for that case+shipping which will probably be around $25 or $30 via FedEx.

I can't afford $250 for an amp on top of this, and I've found an amp that I've decided to get that isn't that Acoustic one. Thanks though.

If you want any pictures, tell me what you want them of but there aren't any cosmetic flaws. No scratches or anything.