What kind of guitar is this?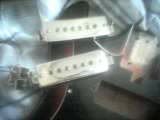 I got it given to me, without the original neck. I has no bridge, but it appeared to have had a roller bridge of some sort. It appears to be japanese made to me. Also you cant tell but its 2 pickups, vol, tone, 2 slide switches.
Also its dinged up pretty good, would it be a good idea to paint it, or is it rare or something?
A Jazzmaster, or a Jaguar? Can`t see it.
those are crap pics.
no one will be able to identify it with those pics.
Last edited by tona_107 at Jul 31, 2008,
A Jazzmaster, or a Jaguar? Can`t see it.
Nah, the cutaway comes to a point. Neat body though.
Mod the hell out of it and name it yourself. See what you can do about the dents at the bottom while you're at it, but I'd try to preserve the finish if I could, it looks nice.

Join date: Nov 2007
10

IQ
By the looks of it is probably an import from the '60s or 70's from one of the many companies that supplied student guitars at a cheap price. You can search on Ebay for guitars like Teisco, Kay, Guyatone ect and you might find a guitar similar to that one if not that one.

No they aren't rare and aren't worth alot, but they're neat.

Cheers!
*I apologize for having the worlds Shi**iest camera phone*
If any other pics are needed, just tell me which parts.
Ill look into them, I figured it was a Japanese model of some sort.

Join date: Jul 2008
30

IQ
Not sure, but whatever it is it looks pretty cool. You should restore it, then post better pics! =D
haha

Join date: Aug 2005
210

IQ
Looks like a Kay from the mid to late '60s. I got one almost identical to it in my profile pics.

Don't repaint it.

edit: Look at the one in my profile. They have the same type of bridge and tailpiece, controls, and even pups. More pics of mine to come...
Last edited by Invader Jim at Jul 31, 2008,

Join date: Nov 2006
30

IQ
I'm pretty sure it's a really old Teisco. I have a guitar in my garage that looks alot like that one.

Join date: Oct 2005
80

IQ
looks like a bass. is that an electric guitar?

Join date: Apr 2005
30

IQ

Join date: Jul 2008
50

IQ
I have one I think it's some kind of reakky cheap harmony
Me and InvaderJim think we have it down to a lawsuit era Kay, without any parts


Join date: Nov 2006
80

IQ
It's a harmony guitar, I got one last week for $20

Join date: Nov 2006
30

IQ
Well, he wins the thread. Coulda been a bunch of different guitars though.
Thanks Senor_Penguin for helping me find out the brand.

*Not just him, thanks to everyone who contributed*