what does this look like to you??

Join date: Mar 2007
126

IQ
so this might belong in the guitar customization thread, but i wasnt sure?
so im buying a guitar off of ebay for a custom project im doing(making a Joker guitar

), and it comes with a free neck.
does this neck look scalloped to you?
and what kind of guitar does this look like? i cant figure it out, and the seller doesnt know **** about what hes selling..
thats why im getting it for 10 dollars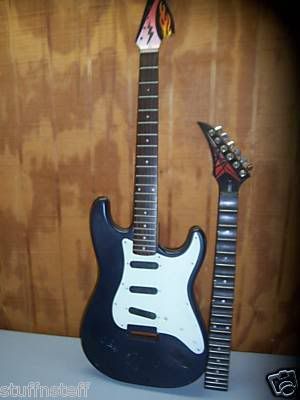 Join date: Oct 2007
430

IQ
the one that's off the body? that's definitely scalloped.
The spare neck is scalloped.

Looks like a modified strat.

Join date: Jul 2008
10

IQ
I acutally have one of these sitting in my closet LOL!. I can remember the brand, but it's made in Arlington, Texas. Where I lived for a brief while lol.

Join date: Jun 2008
10

IQ
yea the one thats not attached is definitely scalloped, and for 10 bucks thats pretty good

Join date: Jul 2008
150

IQ
based on what i can see of the headstock it looks like a squier stat. i don't know about the scalloped part.