Huge INtonation Problem.
hey, i've got an agile les paul copy.
i recently restrung it, and i switched from 10s to 11s.


the intonation is fine. up until you get past the 12th fret or so on the g and the b strings.
also, the intonation of the high e is the worst. when you fret a note above the fifth fret the pitch is literally almost a semitone above what it should be.
the notes on the g and b are also too sharp.

the question is, can I fix this by raising or lowering the action?
and if i can, can i do it without having to completely restring my instrument?
well you adjust intonation by moving the saddles on the bridge, have you done that?
i don't think so. Not intentionally anyway.
alright. thanks.
but can i adjust the saddles without taking off, or loosening the strings?
you just loosen the strings a bit, not much
if you loosen the strings prior to adjusting the saddles it defeats the purpose.
you're adjusting the saddles to tune the guitar.
SETTING INTONATION: from icepoint...
Most electric guitars provide individual string length adjustment for setting intonation. Fine tuning this length insures that your guitar plays in tune all the way up and down the neck.
Using an electronic tuner, tune your guitar to pitch.
One string at a time, play the harmonic at the 12th fret and then play the fretted 12th fret note.
If the fretted note is sharper than the harmonic, increase the string length slightly until both notes register the same on your tuner.
If the fretted note is flat compared to the harmonic shorten the string length slightly until both notes register the same on your tuner.
Repeat the procedure on all strings until the harmonic and the fretted notes are the same.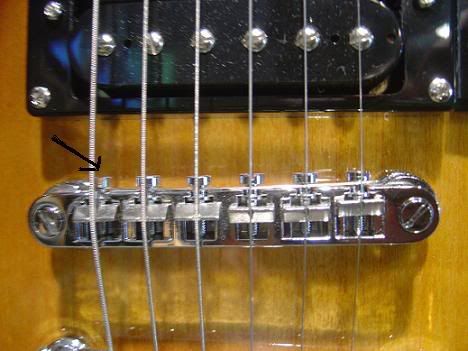 don't forget to stretch your new strings, too!
it'll keep them from going out of tune for a while...