College stuff sale! Carl Martin, MI Audio, Fender Lace Sensors (and more?)
I let my other for sale thread die so I could make an updated one. Stuff for sale is just not used anymore and I need money for college. Almost everything else is for potential sale (hence the ?) if the right offer is thrown out. Will do package deals!
Will consider trades, especially for:
Catalinbread Silver Kiss MK. II
Barber Direct Drive
Anything cool
Fender Lace Sensor Golds
: This is a stock set of Gold Lace Sensors I took out of my '95 strat plus. They work perfectly and look a little worn in. I believe the neck pickup was changed out at some point because it's a lighter color, but it's still the exact same sound. Totally noiseless!
$75 shipped
MI Audio Blues Pro
: This is a fantastic overdrive pedal, but I have too many now and it wasn't exactly what I was looking for. Very cool though, it also turns into a fuzz at the flick of a switch!
95 shipped
Carl Martin Red Repeat
: GREAT delay pedal, I just upgraded to the Carbon Copy and don't need two delays. 600ms delay, tone knob takes it from dark tape to bright digital delay, does all the fun oscillation stuff, sounds great and looks awesome. Made in Denmark

$100 shipped
Not so up to date pic: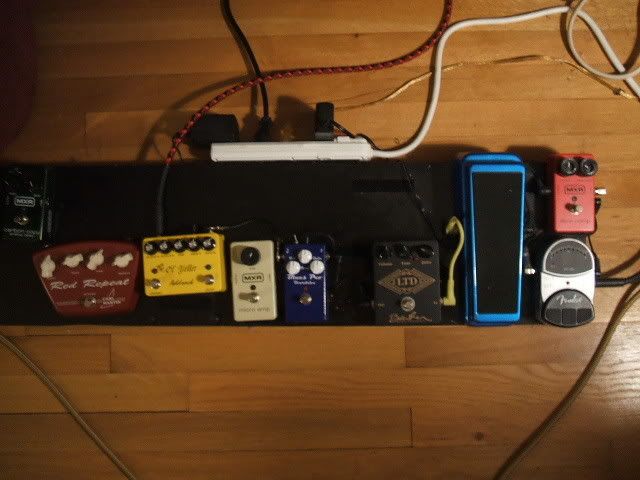 The Micro Boost and Dyna Comp are gone, and the Addrock NSOY isn't mine. I also have a T-Rex Alberta that can go if the price is right. Thanks for looking!

Join date: Jul 2007
60

IQ
Would you be willing to go 20 for one of those pups?


Join date: Sep 2006
151

IQ
What kind of price for just the neck pup? Or do you want to keep them all together?
Well I'd like to keep them all together cause if I sold one I doubt someone would want to buy just a mid and bridge pickup haha. But I have someone that might be buying them on the HC forums, so they could be gone anyway. I'll keep things updated.
Blues Pro is gone! Finally