Gibson Voodoo SG
I had purchased a Gibson Voodoo SG a years ago, shortly after I was given another SG by my parents and it had become my main guitar. From that point my guitar was packed away in its case rarely to be played and only to be set up every year by my guitar tech over in CT to insure that it was maintained properly. The guitar was also signed my Michael Angelo Bato who happened to be at my guitar shop (if you don't want the signature on it you can use an eraser and remove it without leaving a mark).
The tone on this guitar truly is amazing, each note contains its clarity through distortion. In addition the pickups remain true to their name and truly give the guitar a distinct and powerful voicing when played with distortion. It has a darker sound in comparison to other SG's. You have an incredible range of tones from a very deep bass sound from the neck to a high tone from the bridge to everything in between (everything rock and metal). This guitar nails any tone I ever really wanted. The guitar is in perfect condition and working order ( no dings, no scratches, no nada). The guitar comes with a red python case that initially came with it. The guitar is in perfect condition like the day I purchased it.
The SG Voodoo is in a black and red theme in which everything about the guitar is done in, (from the inlays which is a red voodoo skull to the top hat knobs). The grains of the wood are also red in theme with the guitar. If you have any question just let me know I would be more than glad to answer them. I also have more pictures if you need them.
AWESOME
how much do you think it cost in sweden?
It's a discontinued model thats no longer produced. Do you mean how much would it cost to ship to Sweden?

Join date: Sep 2006
151

IQ
You say how good it is with distortion but whats it like without?
I think it sounds rather beautiful on clean as well and you can get great tones out of it on clean.

Join date: Nov 2006
20

IQ
can i have a closer pic of that signature and a pic of the front of the headstock please not saying i dont belive you just want to check thanks
Hi, I'm interested, but unless I'm mistaken you didn't include either a price or a location...

So where are you? And how much do you want for it?!
yeah sure I'll post up a pic of it when I get home today from work.
I'm in Hastings on Hudson in NY. I was looking for like 850 for it with the case. You could always make an offer as well.
i like the black and red verry nice... good luck with selling it whoever gets it will be happy with it!! bump!!
Thank you its appreciated. I more so am open to offers on it and anyone who wants to make one I would take into consideration.
The 850 is just the most I would want for it. I'm open to offers

Here a close up pic of the signature


Join date: Feb 2007
50

IQ
omg taht guitar is gorgeous, bump

Join date: Jul 2008
20

IQ
those are the same pups as in my les paul classic and they are appreciably hotter than a standard gibson pup ... very good sustain and a beautiful resonance with either clean or dirty tones ... also for the clapton-woman tone it is outstanding ... very fuzzy and smooth ... great pups
just tossing in what i know about it

good luck
Thank you for the help.

Metallica92 what would you be willing to trade for it?
I have decided to change the price im looking for. The first person to offer me 650 the guitar and OHSC is theirs.

Join date: Apr 2008
50

IQ
is the body laquered, or can you feel the grain on the neck and body?

Join date: Jul 2008
20

IQ
bump for a nice axe that whoever buys it will love

im so tempted but i have like three guitars right now(two of which for sale) and not a single offer on em.
Any interest in a trade for a carvin CT6 w an original floyd rose? Im in westchester co. NY every day so local deal (try b4 u Buy!) Email me- JLC9909 at Yahoo.com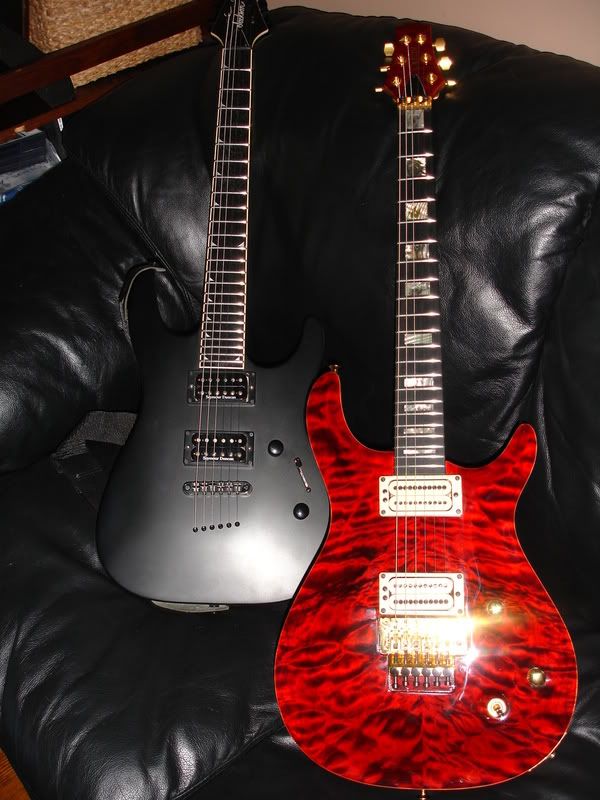 Thanks, but no thanks, I'm mainly looking for money instead of any trades. Sorry!
check your PM's. I'm VERY interested.

B
Sorry guys I went on Vacation for a week and I just sold it. Sorry about the delay.
is the body laquered, or can you feel the grain on the neck and body?
You can feel the grain on the neck.
I love my SG voodoo =]