Jimi Strat
The other day I pulled out an old strat body and played around with it and this is what I came up with.
The tape holds the place of the binding, so don't worry about that. Next step is to laquer it. I have ordered a nice fender bridge, and a pickgaurd (white, S/S/S). Once i get everything together I will order the electronics and neck. My question is where should i buy the neck from? Warmoth seems a bit expensive for a guitar like this. The neck needs to have a roserood fretboard, and has to be pretty thick. I can post pics when I get more finished if you guys want.
And, yes there are some rough spots in the design and elsewhere but i will get those sorted out.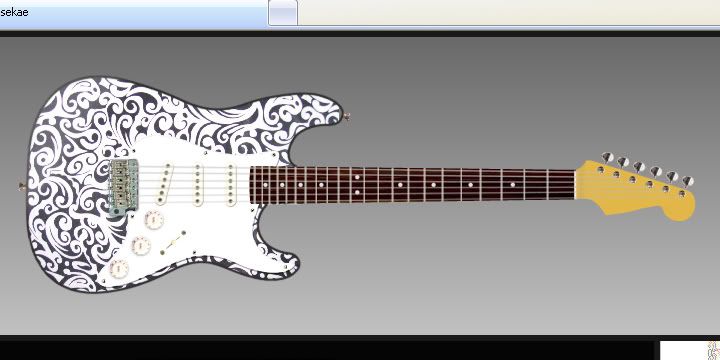 An estimate of the final product.
Last edited by FendermanOC at Aug 9, 2008,

Join date: Sep 2006
30

IQ

Join date: Mar 2008
40

IQ
Sweet, dude!

As far as necks go, they are the most important part of any guitar, in my opinion.

keep that in mind, don't skimp.

Great job, man.
I wouldn't even be able to begin to work out how you did somit so complicated as that paint job dude. That rocks.
dude that is cool!

are you going put some design on the fretboard?
Mighty Mite neck?
You can get them on ebay for under 100 dollars.

The design is amazing though. Really nice job.
Thanks for the kind words guys. Ill check out Mighty Mite. I didn't plan on putting a design on the fretboard, what design were thinking of? Did you mean like the inlays on a JEM or something?

Join date: Mar 2007
50

IQ
Ahhhhhhh nooo don't do JEM inlays on a Jimi strat. They're much too cheesy. Just go with the normal dots.

Join date: Mar 2007
30

IQ
stunning paint job man. Now make the neck a reverse one lol

.
Lol, no I wasn't planning on doing JEM inlays, I think they are pretty cheesy as well. Just a simple fender type rosewood neck.
How did you do that?

edit: looks like either a photo finish or fabric. ?
Last edited by Invader Jim at Aug 9, 2008,

Join date: Jun 2007
260

IQ
Its a large decal of some sorts..

Right around the middle pickup area on the lower side you can see a clear line.

Also if you follow the line up towards the cavity you will see the decal, paper peeling off.

There is also a line going down the middle.
Yeah, I saw that. It's still cool-looking, though.
The design is something i had laying around that was printed on heavy fabric-like paper. It isn't peeling off, i just cut that end because the wood angles down, and the pickgaurd will cover it. Like I said there are some rough spots here and there but like I said I only just did this yesterday. Most visible mistakes will be fixed before i laquer it, although i cannot fix the line at the middle of the bridge cavity, its just where the paper ended.
What about filling in the white parts where the paper ends with a white-out pen or something?
Yeah, I was thinking of something like that, and any difference in color should be mostly covered by the laquer. Whatever I decide, I will post more pictures tommorow probably when I get more done.
Thanks for the help.

Join date: Nov 2006
80

IQ
u should get a lefty guitar and turn it over

Important note about the white-out: It'll darken much faster than the paper. IDK if you'd want to do it. It'll prolly be fine with lacquer on it, though, b/c then the white-out/paper will no longer be exposed to the 'elements' and shouldn't age much, if at all.