TAT - Female Fronted Punk Rock

Join date: Apr 2008
127

IQ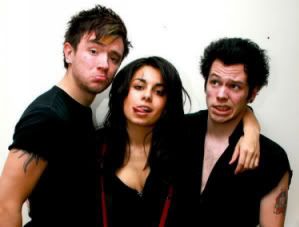 (Nick, Tatiana And Jake)
TAT - rubbish, trash, 'an old load of tat'
TAT - a 3 piece, female fronted, punk/rock band
TAT began life in 2003 and after a few line up changes now consists of Tatiana DeMaria (Vocals, Guitars), Nick Kent (Bass, Vocals) and Jake Reed (Drums, Vocals). Over 5 years, the band have built up a large following of dedicated fans thanks to promoting (via websites such as Myspace and posters/flyers and their energetic live shows.
In their career so far the band have played festivals such as Reading, Download and the Vans Warped Tour and have toured with some of the industries biggest names such as The Offspring, Bouncing Souls, Therapy?, Me First And The Gimmie Gimmies, The Loved Ones, NOFX, Bad Religion and most recently Alice Cooper.
The band are currently touring America supporting Lagwagon and MXPX. The band have completed recording their debut album which is set for a release date of the 28th October as well as releasing a pre-album EP "This Is TAT" which available now on I-Tunes, the bands online store and from the band themselves at gigs.
CHECK THEM OUT
www.myspace.com/tat
www.myspace.com/tatfans