Fret Buzz
this might be a really dumb question, but, how do you get rid of fret buzz? i have my action up all the way. but it still does it. BTW my bridge does not go high action. prolly like .4 inch above fretboard at 24th fret on G string. all others really low. and if u think i need a new bridge please send me the link to one thats kinda affordable. i have a schecter custom-5. thx in advance.
Adjust saddles if possible, or your truss rod may need to be adjusted. PLEASE NOTE, a truss rod is only to be turned about a quarter turn each DAY. I woudl advise if you are not comfortable doing a truss rod adjustment yourself, or are unable to check whether or not you need one, to let a professional repair/setup facility do it for you.
idk where to put the saddles. lemme see if i can get a pic of my bridge. so u can see what im dealing with.
i have this bridge but gold. idk wut to do with it to make fret buz go away.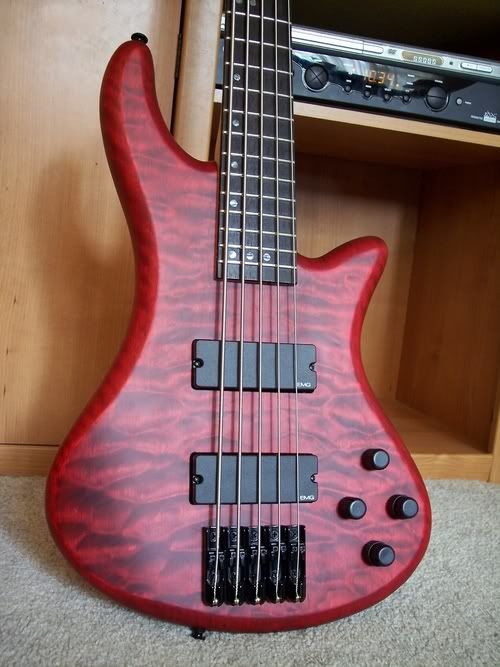 Join date: Aug 2008
10

IQ
I would take it to shop instead of messing with it unless you know what your doing.
Just use an Allen key to raise the saddles a little till the buzz disappears.

The Allen key slots (holes) on the saddles can be seen in your pic on each side of the string where it rides over the saddle.

Join date: Jun 2007
40

IQ
Doesn't sound like anyone actually read your post: you say you already have the action raised all the way? So your saddles are already as high as they can go? The truss rod is probably too tight and the neck is convex or flat when you want it concave. You'll have to adjust the truss rod. Check in the bass faq for how to do this safely. It can be a risky procedure, but anyone can easily do it if they are careful and patient.
Make sure your technique is spot on, because if your hitting the note wrong it tends to buzz.