FS UK: Orange Tiny Terror
Once again i have bought something without trying it. Just got this today from untitled001 (doesnt have box but does come with that cool carry case) but the thing is too loud. After a few people telling me it sounds fairly good at bedroom levels i just bought it, but my idea of bedroom levels must be different to anyone elses. I play at TV volumes and this doesnt sound good at those levels (unless clean. infact the cleans are amazing on this thing!, but i need slash type overdrive!)
I have had this all of 5 hours and used it all of 30 mins. Cant crank it. Untitled001 only cranked it once. This thing is in awesome nick. It is the
korean model
. If you have any questions please ask.
Sensible offers only please
. Will consider trades but much prefer cash. Paypal or cheque please, but ill have to wait for the cheque to clear before i post it. Anyone near Stockton-on-Tees can pay cash on collection if you want. I can deliver within that area if you pay my petrol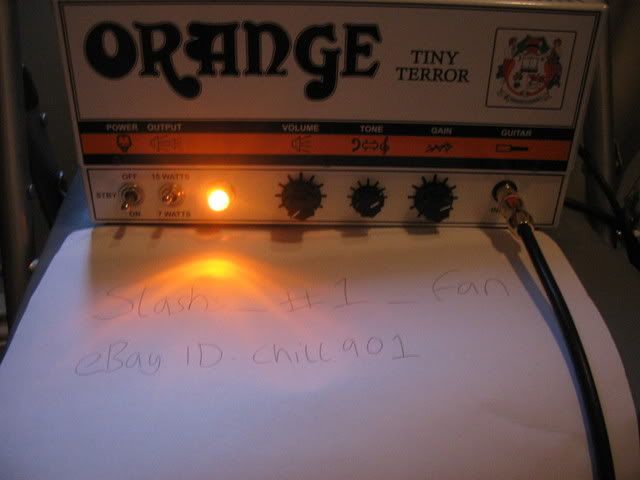 hey chris... i have a tiny terror... i use it at about 11 oclock on the gain and about 8 or 9 oclock on the volume and thats not too loud... that gets a fairly nice tone if you play your neck pickup with the tone rolled back about 3/4... it'd be a shame to sell it so soon... it is a lovely amp...

cheers for the game too...
sorry for the double post but my edit button is missing... i have mine on 7 watts too... not 15.
ill give it a go

and edit is disabled in the gear section, thats why! Cheers dunc
that does sound awesome but its still a little loud

and not enough gain for what i want, and adding more gain at that level produces fizz



do you use an OD??
bump - may need pre-amp valves replacing soonish mind you... £250 delivered anyone?
i dont have an od, well i do but i dont use it a lot, it does get fizzy if you add gain for sure... maybe my humbuckers produce a bit more grunt than what you are using?

sorry man. shame to lose such a nice amp... i'd take it... but i got one...
have another! im using alnico II pros... not too hot... but the pickups on my SG are a bit hotter and it sounds the same... my playing volume is just not loud enough!
bump - may need pre-amp valves replacing soonish mind you...

Scrap that. been speaking to untitled001 and he says it has been sat on top of the cab most of the time unused. think he was in the same position as me... cant play loud enough to get good tone.
Anyway i checked the valves and they are showing absolutely no sign of wear. Interestingly the two pre-amp valves were marshalls, so at some point it has been revalved (maybe recently as they look in great condition. these valves look like they have a bit of life in them yet though
have also posted this on harmony-central under the same username, incase anyone see's both and wonders whether we are the same person...

Im really missing that edit button now....
still up for sale.
I took this to a tech to give a once over to make sure it was performing its absolute best. The tech said it was fine but replaced the HT fuse and told me some techno jargon as to why and said all is brill. Kind of a waste of my money but i wanted it working at its best before it goes to a new owner. Which could be you!!
Offers most welcome. Will also trade for something cool, just make an offer

Oh! anyone in the stockton-on-Tees area, i also have a 1x12 grainger cab for sale too. I dont have packaging for it so i cant post it, but I can post the TT
Interested in the best OD on Earth, Subdecay Stupid Box 2.0, + a lot of cash? PM me for a price either way dude.
PM'd


Join date: Aug 2008
90

IQ
I would like this pm me as well
PM'd (both messages sent to profiles)
stereohigh: sent new offer

engelbert bumperdinck

still for sale!
all negotiations have fallen through thus far, so its still for sale.

Will settle for £220 or some sort of amp trade

Join date: Aug 2008
90

IQ
I need a cab before I can buy that, I have been looking today.
might just get a combo and save up.
thats fair enough mate. i do have a cab but i cant really post it. unless you would be ok with me wrapping it in bubblewrap and parcel paper. there is no box!
interested in a Epiphone 335 with HSC and extras? maybe some cash on top?
sorry, cant ship to US

got too many guitars too... i have been GASing for a 335 actually, but i cant justify it. I need an amp!
Thats Cool. Thanks Man! Good Luck!
cheers mate

Still for sale
probably gunna ebay it in about an hour. its doing my head in not having an amp I like so i need rid of this so i can get one!!