If I have a guitar that's always tuned to Drop C......
What gauge strings should I put on it?

EDIT: I use 9-42 gauge strings for Standard tuning.
Last edited by Vasser at Aug 14, 2008,
Most people will say 11s or 12s, but I usually just use 9s for Drop C because I like to do epic bends.

I definitely wouldn't use 9's haha. If you want the feeling of 9's drop C then use 11's if you want the feeling of 10's use 12's. -So Ive heard, I use an Ibanez and just keep it in standard

Join date: Dec 2007
360

IQ
12-52 for the same tension as 10-46 in standard.
I put EB regular slinky(gauge 10?) on my guitar today and I tune it to drop c. I love the feeling it has now. I used to have skinny top heavy bottoms on it and the regular slinky's blow those out the water.
Oh how I love DR 12s. The G string is wound so it stays in tune sooo much better. That's what I use but I play in drop B.

Join date: Dec 2006
100

IQ
Try this. Buy a pack of 10-56 Ernie ball 7 strings.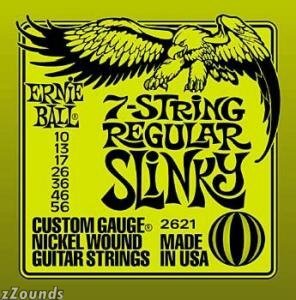 Now use the wound 56, 46 and 36 on the bottom, leave out the 26, and put the 17,13, and the 10 on the top.
It's quick and cheap without having to mix and match strings, because you can grab EB 7 strings packs off the shelf anywhere. You'll just slowly end up with a large supply of .026s you'll never use.

Join date: Aug 2005
60

IQ
I liked 10-52's in Drop C, 12's in Drop B for some reason.

Join date: Jun 2006
80

IQ
i use 10-52 for drop C

but im feeling the 52 is still just a little slack, i might stick on a 56 at some point and see how it feels
what gauge do you like for normal tuning?
I guess I should have asked that in the question. Anyway, I've always used 9-42
9-42's, or 10/11/12-52's.
I guess I should have asked that in the question. Anyway, I've always used 9-42
if you want a similar tension to 9-42, i'd probably go for 10-52, maybe even 11s, with possibly a thicker low E.

Join date: May 2006
30

IQ
My schecter has 10-46's on it and I love the way that feels in drop C#. If you like the strings being a bit loose, the 10-46's work great down that extra half step, but if you prefer a tighter feel then go up to 10-52's or even 11-56's.
Last edited by alienboy18241 at Aug 14, 2008,
I love the way 10's feel for Drop C.. but anything lower than that and it the string tension is way too loose.

Join date: Dec 2007
130

IQ
like the dude at the top said you can do crazy bends with 9's or 10's
I use 11's and they feel perfect in drop C. I almost want 12's but that's probably just because I like my strings to feel tighter (plus I don't need to do crazy bends all that often)
sorry i skipped all the other replys but umm i think it depends on which brand you liek best because ernie balls make 54-11 which i thought were great but they didnt last very long. I switched to d`addarios and i was using 52-11 which i thought was perfect. with tighter strings i think you get more response from the guitar. since your in c i think youll be playing kinda i duno metalish stuff so youd want something thats easier to play fast on. now i use 54-12 and they are perfect. Just make sure to set up your guitar or at first theyll feel kinda weird. but it depends on the brand, most brands make most of the guages cept ernie ball who has the 54-11.