Ibanez Roadstar II mod Pt.II
CLICK THE LINK IN MY SIG FOR PT.1
Yay , guitar parts have arrived.
1 sheet of cream white pickguard material
2 plain black humbucker covers
2 strap buttons
loads of crap that I won't even need
So far ,all I have is a rough outline of the pickguard :
The output is placed right at the bottom right courner of the pickguard
If you're wonderin' .
As you see I have really stratocasterised the pickguard shape.
That's 'cause I really hate the roadstar II pickguard shape.
Just look at that ugly ass pickguard.
To be continued...
Theres nothing wrong with the roadstar pickguards

, makes it look like an roadstar instead of a simple strat-copy.
Wanna se my Roadstar RS135? Ofcourse you do!
(official photofeets)
Made the pickguard myself, don't want the middle pup 'cuz I never use it

(the guitar wasn't done when the photo was taken)
Nice

Did it have a white pickguard on it like this one ?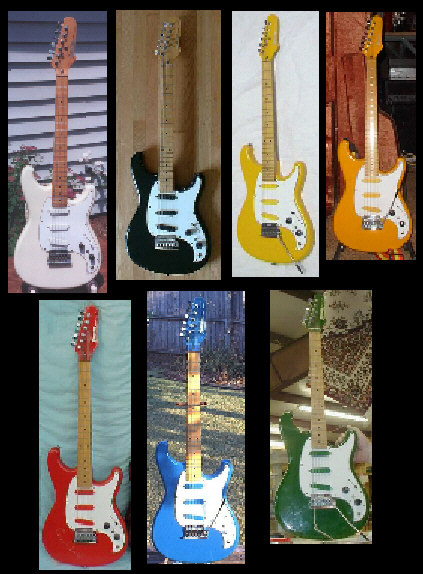 I got my roadstar II when they were trowing it out at the school I went to.
It had a black pickguard and 2 humbuckers both with coil split .
Still can't figure out if it came like that stock or if it was modded for some reason.
It's pretty much just like an RS135 though

Last edited by Evil_Magician at Aug 15, 2008,
Mine had a black pickguard as stock.
Here you can read some about the Roadstar series.
http://www.noahjames.com/vintagepage/rs.html
As you can se there were some Roadstar made with a neck-thru construction :O , wonder were I could find one of those?

After some reading.
It appears that I have a 1985 RS320.

Feels so good to finaly know for sure.
Thx for that link