Jackson electronics overhaul (completed with pictures)
I got this off eBay and I honeslty had no use for it; So much for acting on impulse. I'd always wanted to modify a guitar and here's what I did...
Came with passive EMG's and the afterburner. Master volume, tone, afterburner control.
I had a technician do this for me. While I didn't do this myself it is my layout and guitar so I believe I have the right to post it up.
Now it's sporting...
EMG 81 - Bridge
Sustainiac - Neck
Killswitch
Master volume
EMG PA2
Sustainiac on/off toggle
Sustainiac mode toggle
And now what most of you have been waiting (or looking) for... Pictures!
Before.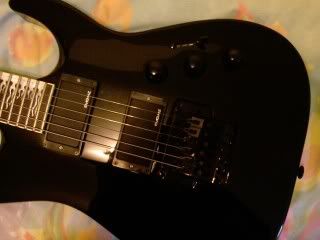 The old electronics cavity.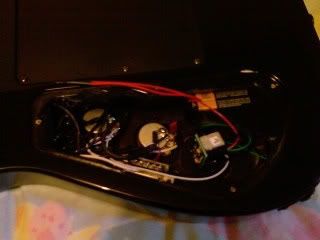 In progress pictures... I resized all of them in my Photobucket album but for some reason the links put them full size. Re-uploaded
Routing had to be done since there was a wood channel that held the old 9V in place.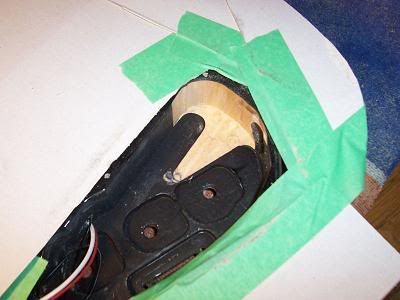 How it all fits in. I find this picture funny.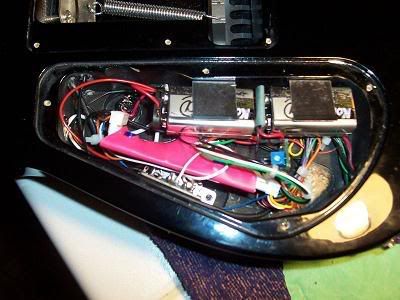 Completed job.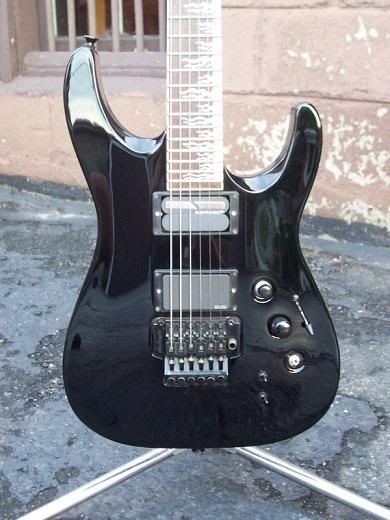 Two things I'd like some input on are...
Should I paint it?
I was thinking some sort of green or graphic that uses that colour since it's not a colour you see too often.
And it gives off a lot of buzz when plugged in... Any recommends for a noise gate?
I was thinking either a MXR Smartgate or a ISP Decimator but I want to know if there's anything better. I'm a pedal player so no rack gear.
Last edited by soul_taker at Aug 14, 2008,

Join date: Oct 2006
150

IQ
It gives off a lot of noise? In what way? When you aren't playing while the amp is still on it buzzes?

And don't paint it. You paid a tech to wire up your guitar, I wouldn't mess with it unless you really know what you are doing. Plus the black looks nice against that inlay.
Sorry I meant that when it's plugged in and i'm playing there's a lot of buzz.

Join date: Oct 2006
150

IQ
Hmmmm maybe there is a ground missing?
Same thing happened to me, I made a stupid mistake and forgot a ground. I had to go back and add it. Check the wiring?
It's not the ground. The tech even explained to me how he grounded the guitar.

It's not substancial but when i'm trying to mute the strings in the middle of a riff it's very noticable.
I recommend an ISP Decimator, I've got one and I can't play without it. On my old guitar I think the ground wire disconnected, so there is a lot of noise without the pedal.. And it doesn't change your tone AT ALL. I picked it up from Long & McQuade for around $130 CAD.
I can get a used MXR SmartGate for $80. Would it be better than paying 130 or more for the ISP?


Also, need more feedback on the wether I should repaint or not.
Sounds like your tech didn't ground something correctly.

The bridge ground needs to be checked, as does everything else.

That guitar should be nearly freaking silent when you mute it.

Hell, I thought EMG's didn't even require a bridge ground because they cancel so much noise? (heard that more than once)

Don't paint it. It looks hot all black like that. Don't F' it up.
don't paint it !

I love guitars with rakes of dodjy switches - they look cool. I'd be more impressed if you'd done it yersel, But that guitar is probably too expensive to fart about with and risk shagging.


on the subject of hum, I think humming is quite a common problem for active pickups generally, I think there are some ways of reducing it at least to some extent but I really don't know anything about active pickups really.

Join date: Aug 2007
130

IQ
The annoying buzz when playing and muted can from from a reversal of a wire somewhere. I did that on my old warlock when re-wiring it, and it was doing the same thing (buzzing when playing and muted strings) and it was just the reversal of wires on the volume pot (easy to miss if not careful)