I just bought a daimen 6 how do i string it up?
I've been messing around with my Stratocaster for about 2 years and it's all been ****s and giggles. Until people starting complaining that it didn't give me enough stage presence. For a while i said i said forget this until bandmates began bringing it up. So i went out and bought a Daimen 6 guitar and now i have something that looks bad ass for metal but i think i may have strung it up wrong because because when i start playing the string slap against the frets and give a nasty sound and not in the good way anyone who owns this guitar any help.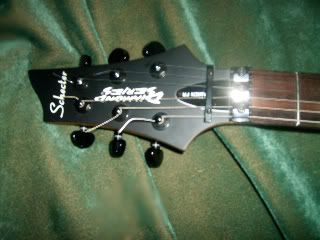 And no the strings don't just slide through the back sadly...
Last edited by Deadwrong at Aug 18, 2008,
i cant see the bridge.
is it a hard tail strat style? fed thru the bottom of the bridge up over the saddle?
*edit: looks like it's fed thru the back.
i just looked it up on zzounds.
Last edited by jj1565 at Aug 18, 2008,
Looks like a floating trem, his pic has a locking nut. TS have you ever strung one of those?
I just got a guitar with a floating trem a few days ago and just learned how to string it pretty easily from this site:
http://www.musicgearsource.com/colar1.html
Hold on would this help?
This is my second guitar so it's an upgrade that i don't know how to use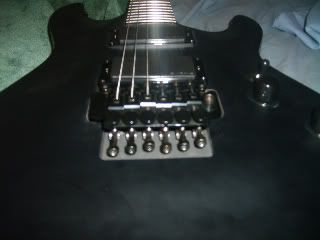 Join date: Jan 2008
50

IQ
Just read up on some floyd rose tutorials, and you know you can use a whammy bar with this type for bridge right?

That link i posted earlier is the simplest way to setup a floyd that i have found.
haha ok yeah, the sticky at the top of the page.

Thank you so much i was about to throw the thing out the window and go back to my baby she might be beaten up but that was the one i learned on so to me it is worth more than gold.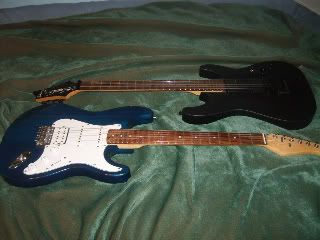 thanks JJ and yoyo i will think of you during practice with it damn this thing is heavier than the strat...
well, it's important to remember, you want to keep tension on the bridge.

so swapping strings one at a time keeps things more stable.

action is adjusted at the bridge posts, and if the bridge lifts, you'll need to adjust the screws and springs in the trem cavity.
Thank you again it's better than never knowing well time to fiddle for a few hours mind if i add you as buds...
yeah go ahead.
if you have any floyd questions, contact
Madpickin03
, tell him jenny sent you.
good luck, and keep tension on that bridge.

Yeah lol, and madpickin03 helped me out too.