Help with changing pickups
I'm changing my stock INF2 bridge PU in my Ibanez for a Seymour Duncan Distortion.
The Distortion came with a wiring diagram, but the switching mechanism I use is different (just the stock IBZ 2502N 5-way switch).
I tried to look up what wire I should connect to what connection on the switch, but I couldn't find it because my PC wont load Harmony Central sites anymore


Anyway.. I was wondering if someone of you would be kind enough to help me out by either pointing out which wire corresponds to which (the INF2 has blue/bare, white, black and red and the SD Distortion has green/bare, black, white and red wires) or telling me what wire to connect to what connection
Your help is appreciated very much


Join date: Oct 2005
80

IQ
I did. But the switching mechanism is different. The one I use is the in this schematic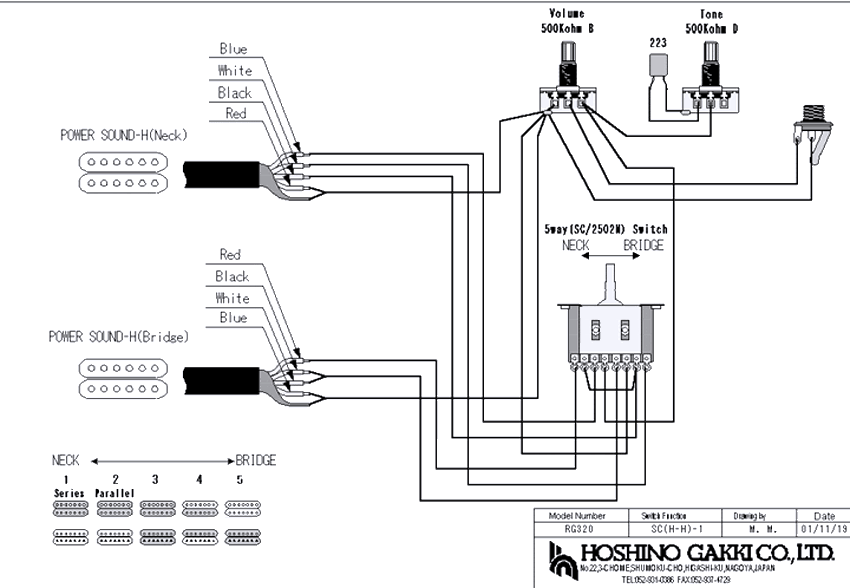 The guitar is a RGT HRG1, with the giger print.. I did look up that schematic, but it can't help me

Okokok I wired it up following my gut feeling and it came it quite ok.. The only thing is in fourth position the inner coil from the bridge and both the neck coils are active, while it should be both the inner coils only.. Anyone know what I should do?

Join date: Jan 2005
355

IQ
Well, telling us how you wired it might help. BTW, i've helped a good number of people replace Ibanez pickups. I'm sure if you search, you'd be able to find a post of mine where I show a color code conversion.