EMG 18 volt mod thread
I've seen a few of these threads floating around but I think there should be a single thread with information helping those decide if they want to try this mod, since its so easy and the change can be pretty drastic and is just as easily reversible. I would also like to have information on people's findings on the difference in their guitars after they did the mod.
Many of the information I've come across on this tell you to desolder the joint on the input jack - the truth is you don't need a soldering iron, you're just running two 9 volt batteries in a series! Here's a simple way to do it without a soldering iron.
What you really need
:
9 Volt battery clip
9 Volt battery
Wire strippers
Electrical tape (or wire nuts)
What to do
:
Make sure you have enough room in your cavity for two batteries!
1. Disconnect 9 volt battery
2. Cut the black wire that's circled
3. Strip both ends of the wire you just cut (and the ends of your new 9 volt battery clip if they aren't already)
4. Connect the black wire of your new clip to the black wire that's still attached to your input jack
5. Connect the red wire of your new clip to the black wire of your old clip
6. Insulate with electrical tape
7. Attach two new 9 volt batteries, put the cover back on and enjoy
For those who like pictures: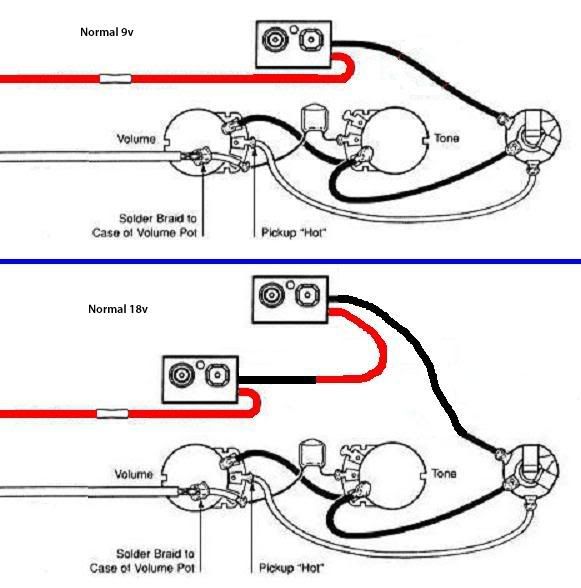 What I would also like to have is how to put a switch that selects between 9 and 18 volts. This would also be a good indicator in hearing what the differences are.
I'll post up real pics and my findings soon.
Wiring with switch
:
This one will require soldering and a little experience:
(switch position in picture indicates 9 volt position)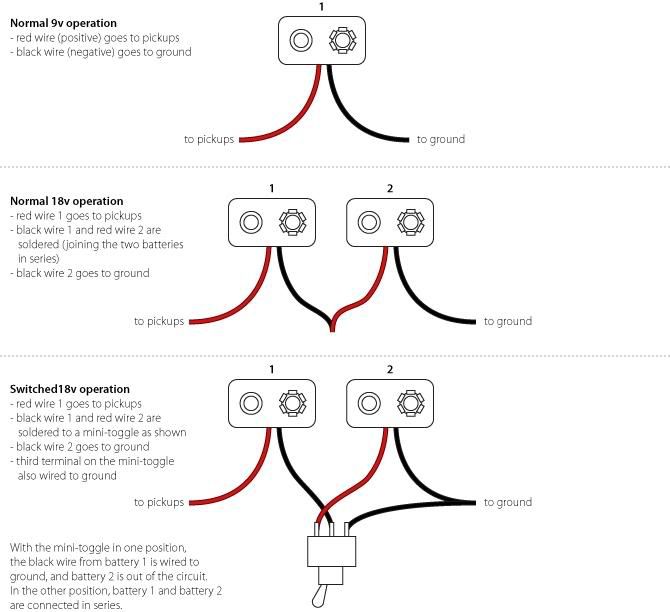 Sound comparison
:
From ShredNChunk:
9v -
http://source.dk/
~jbj/EMG9v.mp3
18v -
http://source.dk/
~jbj/EMG18v.mp3
Sound comparison from Gear Chat:
http://www.youtube.com/watch?v=bmiVT_pUDh4
Last edited by decadence5423 at Sep 7, 2008,