New Guitar. Warning: Huge Pictures!!
Hey All!
I bought a Schecter California Custom Stratocaster guitar recently and thought i'd write a short review about it.
I wanted a Strat for quite some time now and for some reason found it important that it had the beautiful "Fender" Logo on the headstock. So I went to numerous guitar stores and tried out some Fender's. I couldn't get my hands on a good usa strat though. The guitars i tried were a classic 50's strat, one MIM strat I forgot what kind, Jimmy Vaughan signature Strat (really nice) and a used USA strat from 1995 . Most of those guitars were really nice but each one had some things that I didn't like.
So it happened as I tried out the used USA strat that the guy from the store placed a beautiful beast of a guitar next to me to compare to the Fender. I thought love at first sight didn't exist but when I saw that shiny red beauty my hart just melted away.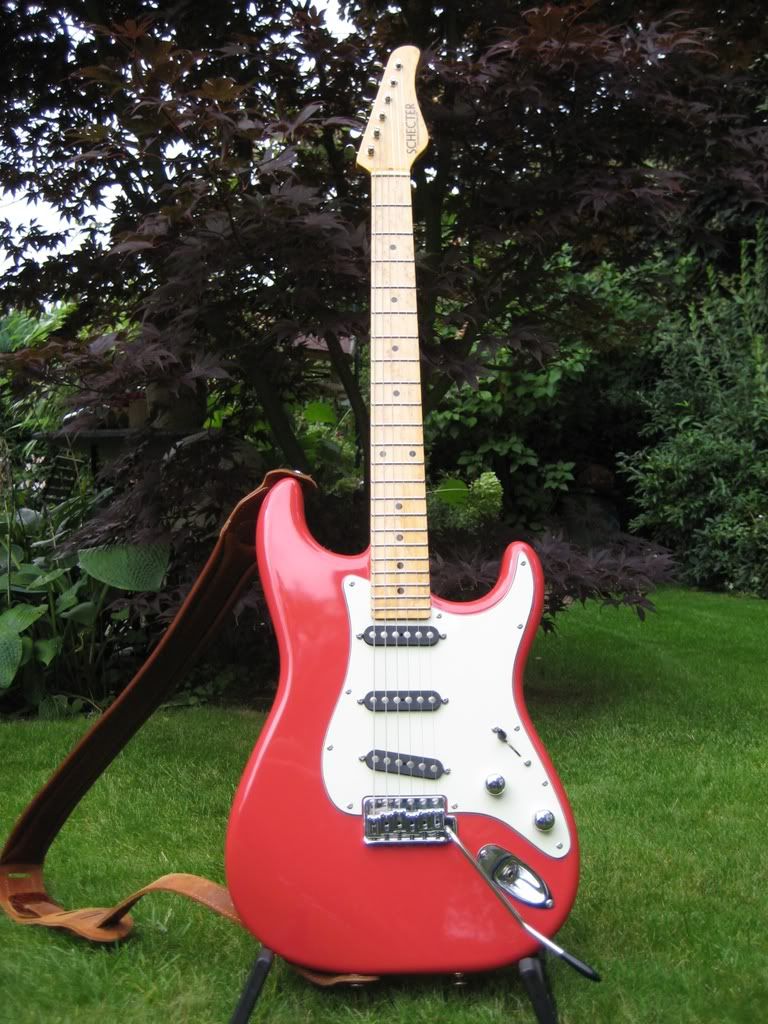 It's one of thos guitars that when you pick them up you immediately feel at home. The neck is C-shaped and it's probably the most comfortable C I've ever played. The fact that it's made out of Birdseye-Maple just increased that "Wow!" moment. You can feel that this baby was handbuilt on every inch of the guitar.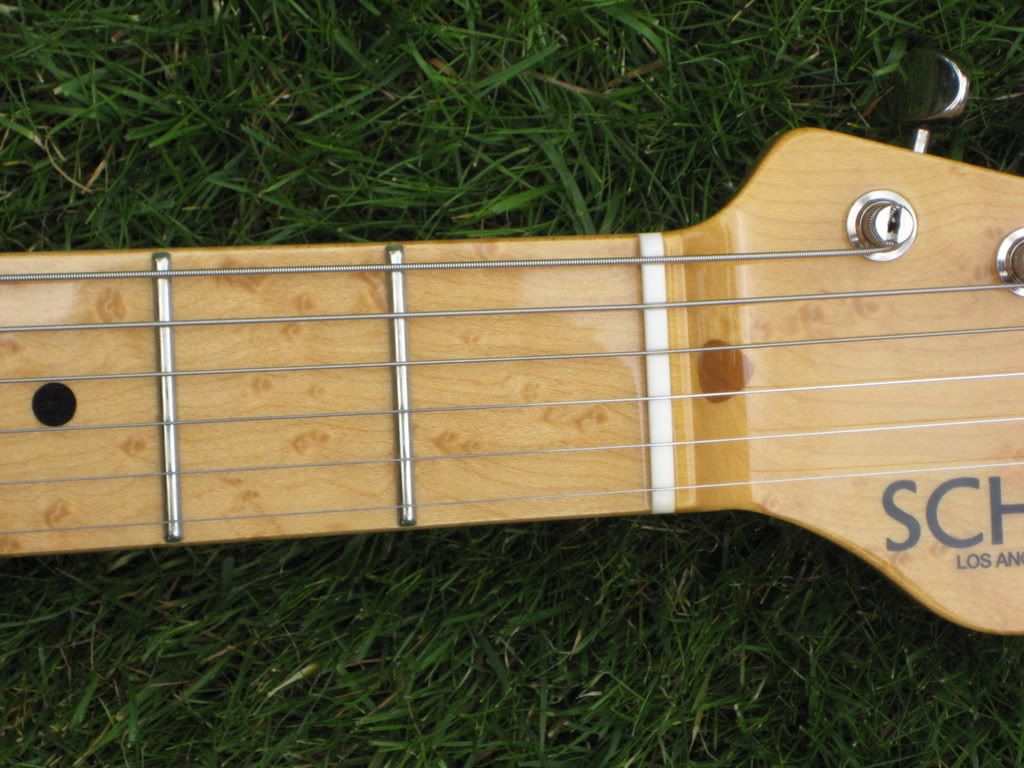 The neck is laquered but as you can see on the pictures it looks like it's not. It's also not sticky AT ALL. You can easily slide up and down. The fretboard is not glued on it's part of the neck. It's features Jumbo frets which are very comfortable and make bendings very easy. And by Jumbo Frets I don't mean those mountains that Ibanez puts on some of their models which i find highly disturbing when playing. It has 22 frets, each of which you have easy acces to. Here's also the only thing I find impractical about the guitar: To have acces to the Trussrod you have to slightly unscrew the neck and then you find the thing under the fretboard. However, I don't know much about necks so maybe this has some positive effects on the stability of the neck. Don't quote me on that though.
The whole thing is held to the body with four screws which go through a beautifully engraved neck plate showing the outlines of California.
Now comes the best part of the guitar: the sound. The Pickups are handwound and really drive my Fender Hot Rod Deluxe amp. This lady screams, cries and sings if you want it to. The controls aren't Fender-typical as it only has one Tone and ond Volume Knob. The Pickups deliver lots of Mids and Bass and those Bell-like-Highs that everyone is so crazy about. You also get a terific amount of punch from these guys. If you play around with the 5-way switch you can go from a warm, smooth tone to a funky,punchy sound.
The Controls also feature something which I wasn't even aware of when i bought the guitar. It has a Push-Pull Tone Knob which i believe It a Mid-cut. I doesn't take the mids away but leaves a good amount of them. This way you can make the sound more transparent and clear if you feel theres too much Mids and Bass.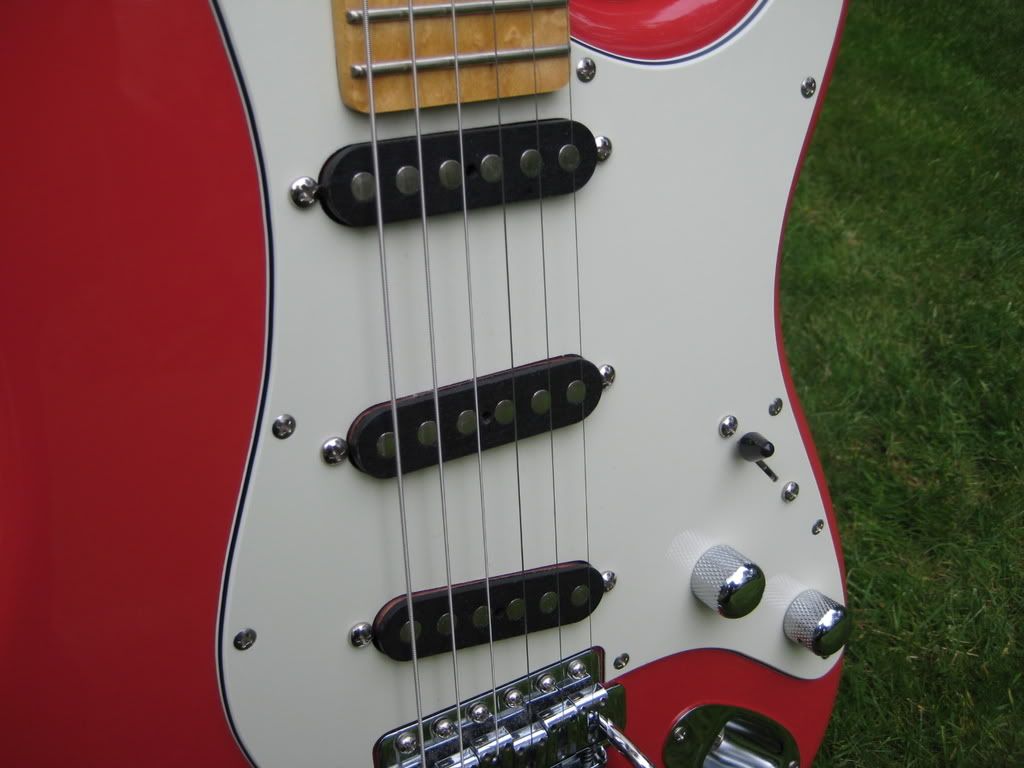 Like every strat should it features the vintage Tremolo system. Everytime i see one of these units I feel unsure about their reliability. However, this thing, together with the excelllent tuners, hold in tune REALLY well. If you do Divebombs all the time ofcourse it goes out of tune a bit but not even as much as you would expect. It's held to the ground by three strings and instead of a steel block this unit has an Aluminium block.
The guitar has another interesting feature. Instead of the normal two strap pins it has three. One is located on the horn as usual. The other two are at the "bottom" of the guitar. Instead of the one that is in the center it has two that are located left and right from where the centered one would have been. This way you can make the guitar sit higher or lower without messing with your strap. If anyone here has other ideas what for what this can be used, post them here please.
Overall I'm very pleased with this guitar. Not only does it feel incredibly natural but it also sounds so musically and can be used for many styles of music. The happyness you get by playing this baby makes you forget about the missing Fender Logo

I hope you enjoyed reading my little review and please do leave comments!!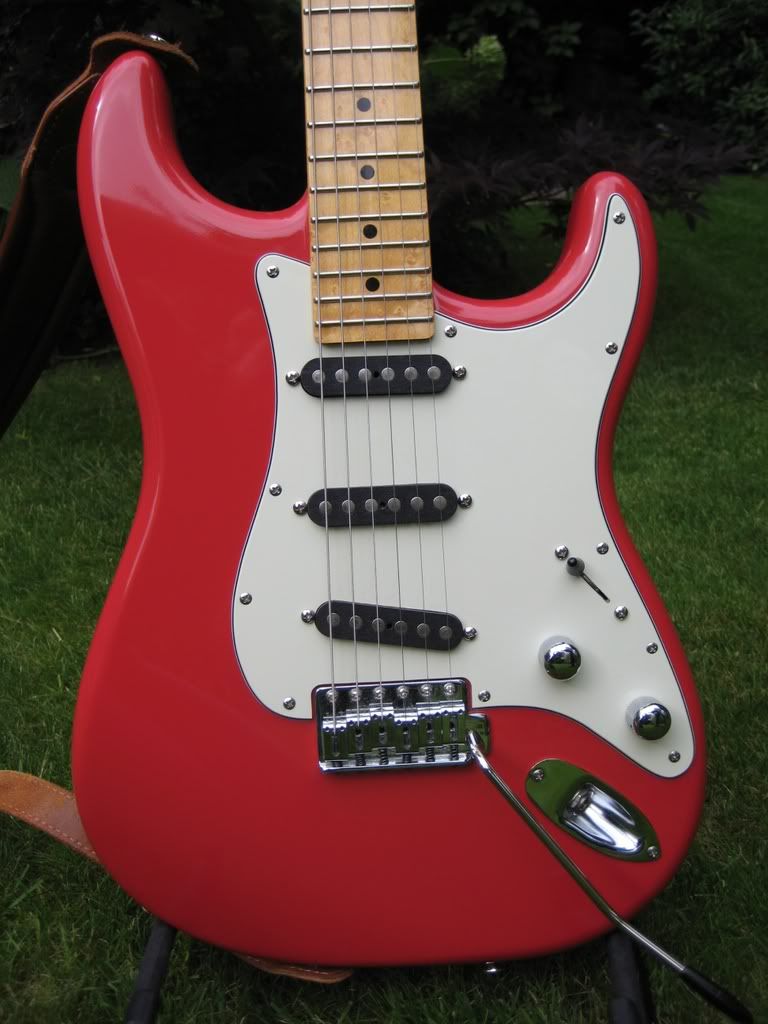 Your Knödel
Last edited by Dr.Evil Knödel at Aug 27, 2008,

Join date: Jan 2007
70

IQ
Wow, very purdy.

How might did it set you back?
You mean how much it cost?
Well the guy from the store told me that it retails for about €3000. But the previous owner had perfect hearing so he heard the slight tonal difference that is produced if you play with jumbo frets and press too hard on the fret so he traded it for another guitar. Therefore it was "used" but good as new. So the guy could lower the price alot. I paid a round €1000, which i think is a really good price.
Thanks for the comment
Join date: Feb 2006
224

IQ
Very nice

.
Any soundclips or video?
Oh yeah thanks for reminding me!
I will upload a video of it tomorrow if I take the time. Just try typing in the name of the guitar anytime tomorrow on youtube. Check out my other (two) vids on there! my username on there is supabaua so check it out if you want

thanks!
nice, congrats man, very nice guitar. Most people have no idea how good those Schecter custom shop guitars are. My friend has an old Avenger body style custom shop, and it's a killer guitar.

That was exactly the purpose of this review. Most people just value the name of the brand (like fender,Gibson)too much (like i did). There are alot of really good strat copies out there.
Thanks for the nice words!
Schecter always make badass guitars
I'm not too well informed about their other guitars but some of theirs "normal" model looks also very nice

.
Thanks!

Join date: Mar 2008
60

IQ
you can make your guitar even more badass if you hang a pair of these on that extra strap pin

haha, nice guitar. love it

Haha Nice.
Yeah that comes to mind
Pimp my guitar haha
thanks!!
Wow, that thing looks amazing. Congrats, what a nice strat. Very Very nice guitar man. Great, you gave me GAS!

Join date: Aug 2007
61

IQ

Join date: Dec 2006
10

IQ
Nice guitar!
You could put two straps on your guitar

That way you can have added security (lol?), or wear them in an X configuration (with the guitar pointing straight up. Ooohhh yeah.), or on your back like a book bag. Hell, you can even wear one and leave one dangling to confuse everyone. Connect a strap to your belt and it's a leash! I dunno, I'm bored. Just got done with a bunch of physics homework ._.
You're damn right she's sexy as hell! haha
I love that strap confusion stuff. great ideas comming from there

Thanks for the comments!
Very very nice guitar - looks like you got a killer steal too! And you sigged me haha


Enjoy the guitar


Join date: Sep 2006
10

IQ
Cool review

I've actually been looking at strats recently as I love their clean sound and I need a change from metal.
I'd like that guitar in white or black!


Join date: Dec 2007
10

IQ
I'm going to be annoying and say that not every strat has a vintage trem, many have hardtails and Floyd Roses.
A Schecter without Abalone? OMG
Thanks Yngwi3. I think so too but I can't seem to find info on the net about the real price so i have to quote the guitar store guy on that.

@UpTheIrons!: I know that not every strat has a vintage trem. I wrote: "Like every strat should it features the vintage Tremolo system". I wrote that because I think it looks better that hardtail strats of floyd rose strats.

Thanks for the comments!

Join date: Jun 2008
20

IQ
Schecter just makes great guitars. Their quality is really impressive. Even the cheaper schecter guitars are so much more better built than other guitars in their price range. I have a Schecter Exotic star which ran me 800 bucks and i have more expensive guitars that can't mess with it. I also have a cheap schecter omen 7 string which feels and sounds like a much more expensive guitar. I used to be an ibanez guy but i'll never buy another ibanez until they get their quality back like it was in the 80's. Schecter really up their standards. Most of the schecter guitars that are over 400 bucks have great pickups and a great fretboard you don't have to do any work to it. My schecter exotic star is the only guitar I have that is 100% stock and i love it that way. Every other guitar I have to do work.

Join date: Aug 2008
26

IQ
Wow, you dont see too many Schecters like that.

Join date: Dec 2007
10

IQ
Cool. I like vintage trems a lot. Nice guitar as well

.
Yeah i got really confused as well because i've never seen a Schecter like that. I didn't even know they built those guitars.
Thanks for the comments!