input jack
So recently I made a couple threads about how my guitar was making a buzzing noise. When I took it into the shop, the dude thought nothing was wrong with it, but did tighten my input jack. Ever since, when I would plug in my cord, it wouldn't just snap in. I would push it and it would slowly go in, eventually snapping. Well I decided to investigate. I opened up the back of my guitar, loosened the input jack, moved it just a little bit from the inside, and tightened it again. Now my cord wont stay in at all. Help?

Join date: Feb 2006
224

IQ
Take it back to the tech and go over it with him. It should just be a matter of bending the contact.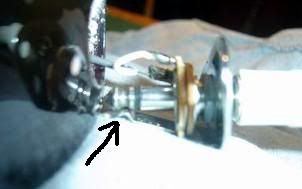 take the plate off, insert a plug, make sure it's getting grabbed here.
if not carefully bend the arm a bit.
ok

and dont hand tighten that jack anymore or you'll rip off a wire.
always take it out and hold inside and out to tighten up.
good luck.