my guitar
is spazzing out

for some reason the signal just doesnt go through then out of nowhere it come to life then die again. its annoying

this is a MIM strat from 91 that i got for my brother

at first i thought it was pedals and cable problems but i tried it with my ameristrat and it works perfectly

so out put jack issues?

Join date: Dec 2006
60

IQ
yea its sounds like just a common jack problem, grab a screw driver, unscrew the 2 screws, pull it out make sure the wires still connect (very rare if it aint) but u just basically just need to tighten it, u may need a spanner to get it tight

but also check ur amp jack, u never no
Output jack problem from the sounds of it, like was said before.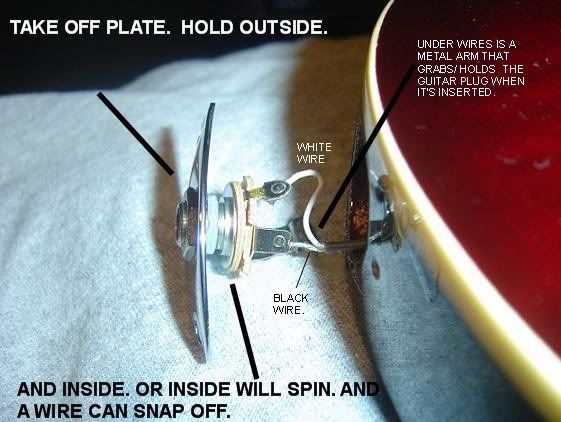 Join date: Dec 2006
60

IQ
good photo hakael that should get the job done for TS
Credit to the photo goes to Jenny.

One other thing that people have been doing, to keep the output jack from loosening over time, is placing a thin locking washer, inbetween one of the nuts and the output jack. It's a very inexpensive preventative measure and one that I've used on a number of guitars that i've repaired for people.