Need Help!!!
i am restringing my guitar. it has a floyd rose and im going from 10-46 to 11-52.
the guy said that the springs will need to be adjusted or something like that if i go to a dif gauge.

i need help with all this?
i already went to the floyd rose thread but i jus wanna make sure i do it right.
someone please help..

thanx in advance
you need to swap one string at a time.

and then if the bridge raises, then you;ll need to adjust the springs in the trem cavity.

there's a sticky at the top of the page.
dumb question but what the hell is a sticky??
no problem.

it's a thread that's "stuck" to the top of the page. it's always there, it doesnt fall to the bottom like all the others.

in this case, it's the official FR set up guide sticky.
haha i still dont see it.
sry dude..
everytime i tune one string the other one goes out of tune..
what do i do?
you tune the low E then the high e, then the A then the B, lastly the D and the G.

it's called cross tuning. you do that several times, make sure the bridge is level too.
(not raised in the rear)
thats another thing when i tune the strings the bridge goes way up. do i just start with it really low?
yeah that's the strings pulling up on the bridge.
you need to flip the guitar over, and tighten the two screws in there.
add a spring if needed.
that's what the guy was talking about at the store.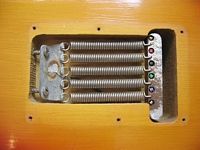 ok. ill keep trying it. if i have anymore questions (which i probably will) how can i get a hlod of you?
i'm going to bed now, but i'm here every day.
or you can post here, or in the future click the Q and A link in my sig.
sometimes a bat signal in the sky works too, but posting here is probably easiest.


Join date: May 2006
51

IQ