BC RICH NJ Assassin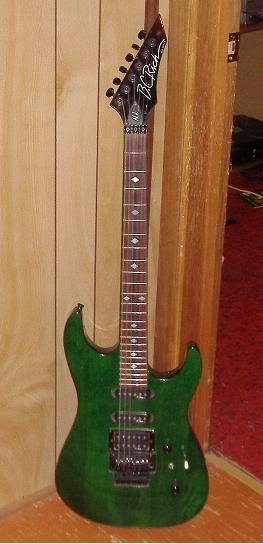 Does anyone around here by any chance recognize this guitar? In respect to the age of it I suppose, I've had it for awhile but know nothing about it and can't really find one like it on... google.

Join date: Aug 2006
60

IQ
Last edited by Lil Macker at Aug 31, 2008,
I think there may be some differences between mine and those ones though, as they're saying 2 humbuckers and a 3 way switch, where I've got 1 humbucker, 2 single coils and a 5 way selector switch. Plus, no one mentions what that little flipswitch is between the volume and the tone knobs.

Edit: but, its probably close enough to say that its likely around that year.

Join date: Nov 2007
30

IQ
That looks a lot like my ST-III, in that the pickup/trem configuratopn is the same. ST-IIIs have had different control layouts over the years, though. What is the serial number?

Join date: Jun 2008
282

IQ
I have an older one of those, it appears to be a Gunsliner/SST (same body, only difference is hardware and pickups).

That mini-toggle in the middle is a coil tap.

Join date: Aug 2008
30

IQ
EWWWWW BC RICH=epic fail
Wow....i've never heard anyone say anything like that before...

Join date: Jun 2007
316

IQ
EWWW, Poster above the poster above me is an idiot, forming an opinion of an entire brand based on a couple of their guitars at most!

If it says NJ on it that it was made in japan, not korea.